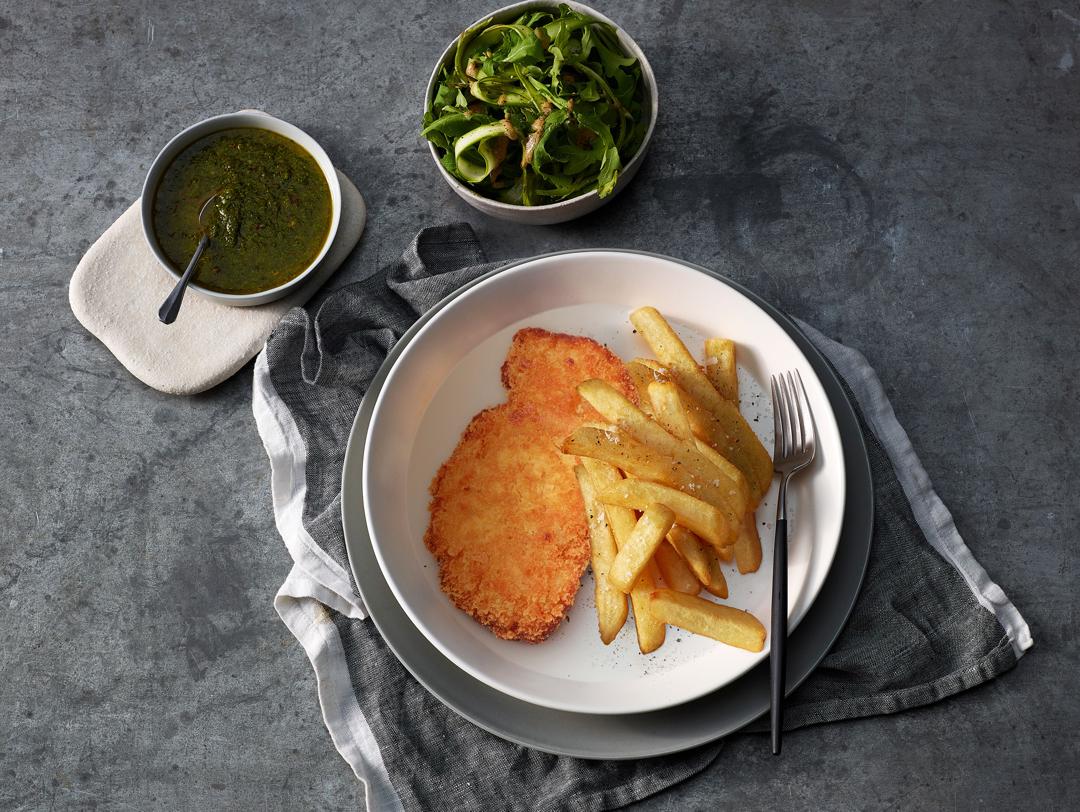 Air-Fried Chicken Schnitzel with Capers and Lemon
This healthier version of the Austrian classic, combines the golden crisp crumb with capers and zesty lemon. It's sure to become a family favorite and a staple in your weeknight meal collection.
Ingredients
---
2 large boneless, skinless chicken breasts

⅓ cup (1¾ oz) all-purpose flour

½ tsp freshly ground black pepper

1 cup (2 oz) panko breadcrumbs

½ cup (1½ oz) finely grated Parmesan cheese (optional)
Instructions
1

Starting with the thickest side, place the palm of your hand on the top of the chicken breast and slice through the center horizontally to form 2 even pieces. Repeat with the second chicken breast. Each piece of chicken should be approximately ½-inch thick. If the pieces are thicker, cover loosely with plastic wrap and gently pound with a meat mallet until ½-inch thick.

2

Put the flour on a plate. Add the salt and pepper and stir to combine.

3

Put the eggs and milk in a shallow dish. Whisk with a fork to combine. Put the breadcrumbs and Parmesan on a shallow tray. Stir to combine, then spread out to cover the bottom of the tray.

4

Working with one piece of chicken at a time, coat the chicken in the flour mixture, dusting off any excess, dip in the egg mixture then crumb mixture, pressing on the crumbs to secure. Put on a plate. Repeat with remaining chicken, flour, egg and crumbs. Cover with plastic wrap and refrigerate until ready to air fry.

5

Preheat the oven. Select AIRFRY/SUPER CONVECTION/425°F/9 minutes and press start.

6

Place the crumbed chicken in the AIR FRY basket, ensuring they are not touching each other. Spray with the oil to coat. Turn the chicken over and spray the other side.

7

Once preheated, place the basket in the AIR FRY position and cook for 9 minutes.

8

Carefully remove the basket from the oven, turn the chicken over and return to the oven. Select AIRFRY/SUPER CONVECTION/425°F/5 minutes and press start.

9

Serve the schnitzels with French fries and salad.