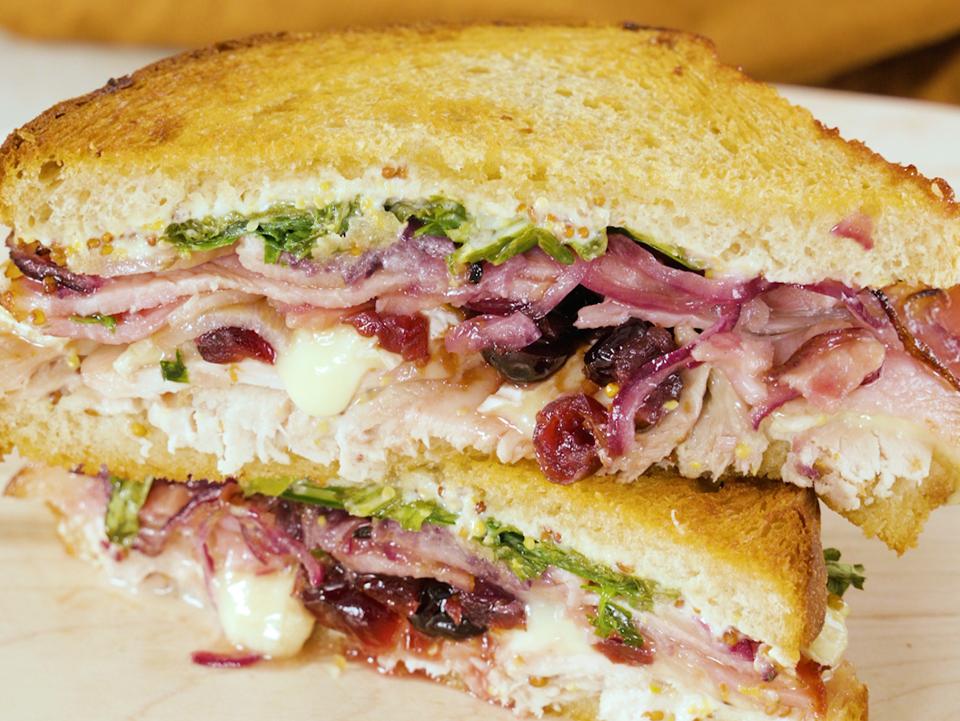 Leftover Turkey Sandwich
Get double the joy from your holiday turkey, by making this loaded sandwich with the leftovers! Jam packed with festive flavors, turkey and bacon layered with melting brie, cranberry sauce and a flutter of peppery arugula.
Ingredients
---
2 tbsp whole grain mustard

4 oz sliced leftover cooked turkey

¼ cup (2¾ oz) cranberry sauce

Softened butter

to spread
Instructions
1

Insert the wire rack into position 6. Select AIR FRY/SUPER CONVECTION/390°F/15 minutes and enable Rotate Remind. Press START to preheat.

2

Place the bacon in the roasting pan and add the water.

3

Once preheated, place the pan in the oven. When the Rotate Remind signals, add the onion and continue cooking until the bacon is crisp and the onion has softened.

4

Meanwhile, combine the mayonnaise and mustard in a small bowl.

5

Spread the bread with the mayonnaise mixture. Place the turkey on 2 slices of bread and top with the brie. Spoon over the cranberry sauce.

6

Place the bacon and onion on top of the cranberry sauce and top with the arugula. Sandwich with the bread, mayonnaise side down.

7

Place the sandwiches in the clean roasting pan and spread the outer side with the softened butter. Turn the sandwiches over and butter the other side.

8

Press PHASE COOK, for P1 select AIR FRY/SUPER CONVECTION/ 425°F/5 minutes and press CONFIRM. For P2 select ROAST/CONVECTION/300°F/2 minutes and press START.

9

Once the oven is at temperature, place the pan in the oven. When the oven signals, turn the sandwiches over and continue cooking until the bread is golden brown and the cheese melted.

10

Cut the sandwiches in half and serve.