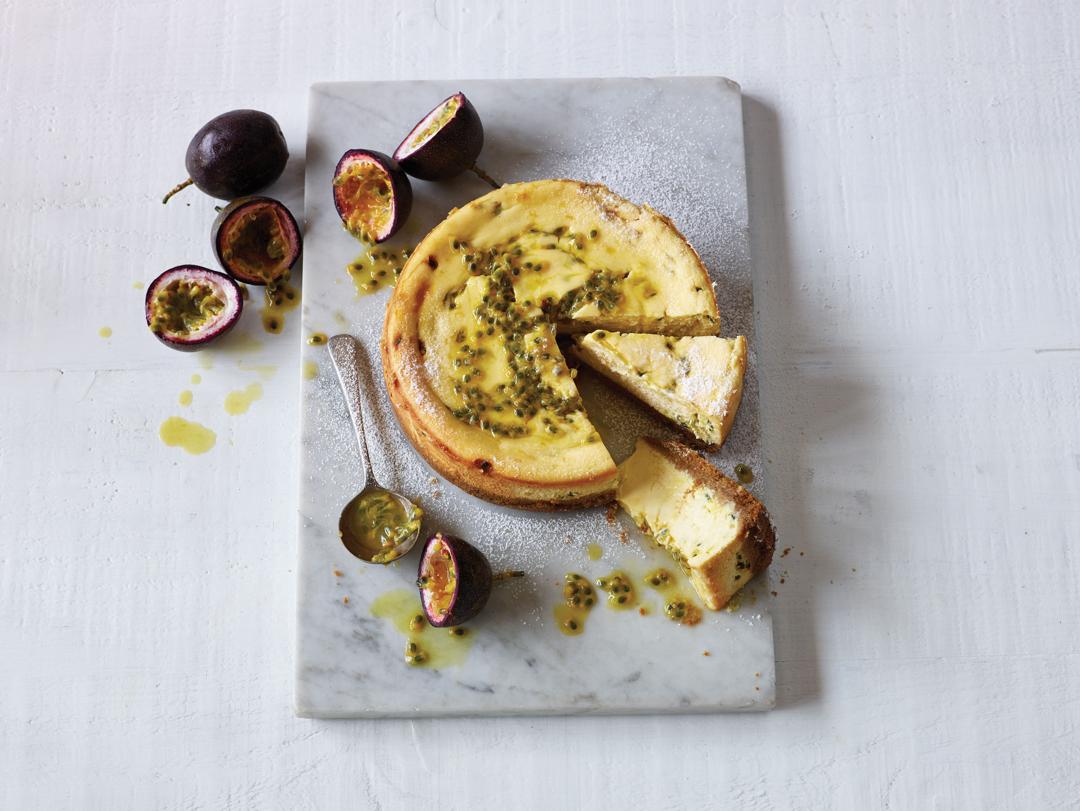 Baked Passionfruit Cheesecake
Ingredients
---
3½ oz unsalted butter

melted, plus extra for greasing

7 oz digestive biscuits

halved

17½ oz cream cheese

chopped, at room temperature

1 cup (7 oz) superfine sugar

1¼ cups (10½ oz) sour cream

½ cup (4 fl oz) passionfruit pulp

from about 6 fruits
To serve:
3 passionfruit

pulp removed
Instructions
1

Invert the bottom of a 9-inch springform cake pan and lock into position. Brush the bottom and side with melted butter. Line the bottom with parchment paper.

2

Put the biscuits in the bowl of a food processor and pulse until completely crushed. Add the melted butter and pulse until well combined.

3

Spoon the mixture into the prepared pan. Use a large spoon to press the mixture evenly over the bottom. Refrigerate for 20 minutes.

4

Insert the wire rack into the bottom shelf position. Preheat the oven. Select BAKE/CONVECTION/275°F/55 minutes and press start.

5

Wash and dry the processor bowl.

6

Put the cream cheese in the bowl of the food processor. Process until smooth. Add the sugar and process until smooth and creamy, scraping the sides of the bowl as required.

7

Add the eggs one at a time, and pulse after each addition. Add the sour cream and pulse until just combined.

8

Pour the cheesecake mixture into the cake pan. Spoon over the passionfruit pulp and swirl to combine. Place on the pizza pan.

9

Once preheated, put the cheesecake in the oven and bake for 55 minutes.

10

When the alarm sounds, turn the oven off and cool the cheesecake in the oven, with the door ajar, for 2 hours.

11

Cover and refrigerate for 6 hours or overnight.

12

Remove the cheesecake from the pan and transfer to a serving plate. Spoon over the passionfruit pulp, dust with powdered sugar. Slice with a warm knife and serve.