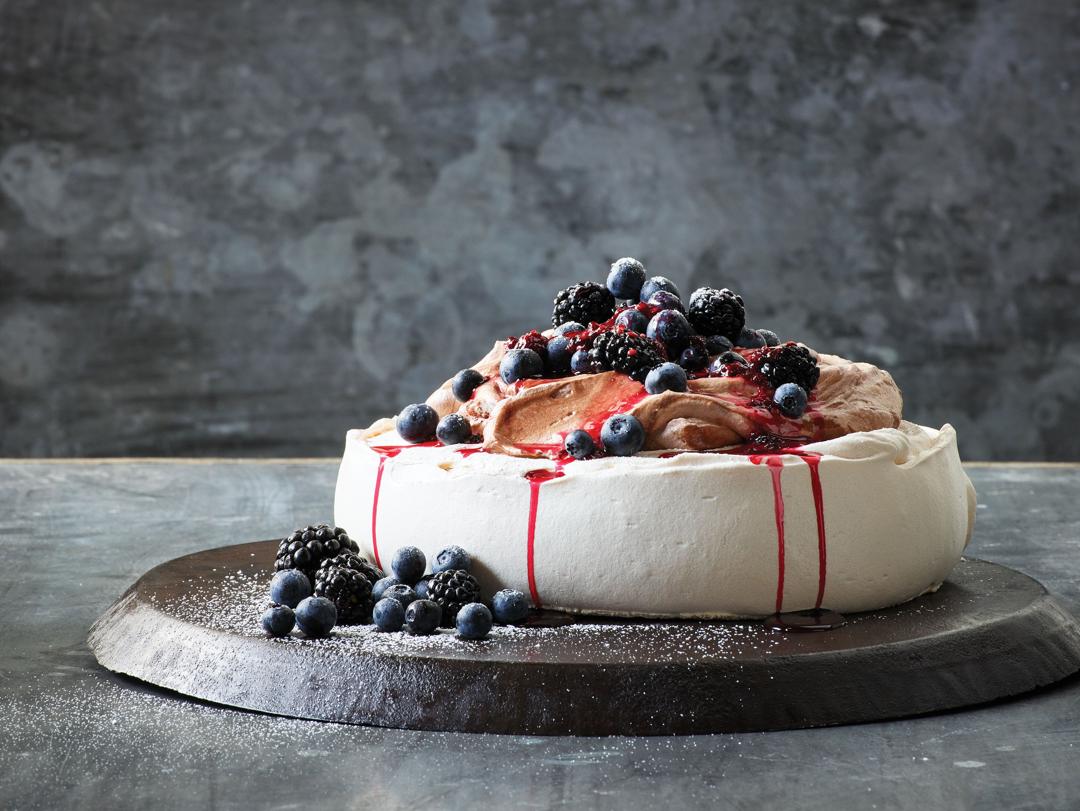 Pavlova with Chocolate Cream and Berries
Ingredients
---
For the pavlova:
8 large eggs

at room temperature

2 cups (14 oz) superfine sugar

1 tsp distilled white vinegar
For the chocolate cream:
7 oz dark or milk chocolate

chopped
For the strawberry sauce:
9 oz strawberries

hulled, chopped
Instructions
1

Draw a 9 ½-inch circle on a 12-inch piece of parchment paper. Lightly grease the pizza pan then place the parchment paper, marked side down on the pan.

2

Insert the wire rack into the bottom shelf position. Preheat the oven. Select BAKE/NO CONVECTION/200°F/1 hour 40 minutes and press start.

3

To make the pavlova, put the egg whites in a stand mixer with the whisk attachment. Whisk on medium-high speed until soft peaks form. Gradually add the sugar 1 tablespoon at a time, beating constantly until the sugar dissolves and the mixture is thick and glossy. Gently fold in the cornstarch, vinegar and vanilla bean paste.

4

Use a large metal spoon to spoon the mixture onto the prepared tray. Use an offset spatula to shape into a round, using the circle as a guide. Smooth the side.

5

Once preheated, put the pavlova in the oven and bake for 1 hour and 40 minutes until the pavlova feels crisp and dry. Once the timer sounds, turn the oven off and allow the pavlova to cool in the oven with the door closed for 2 hours.

6

Wash and dry the mixer bowl and whisk attachment.

7

To make the strawberry sauce, put the strawberries, sugar and water in a small saucepan over medium heat. Bring to a simmer, stirring to dissolve the sugar. Remove from the heat and set aside to cool. Spoon the mixture into a fine sieve set over a bowl. Strain the mixture, discarding the solids. Refrigerate until ready to serve.

8

To make the chocolate cream, heat the cream into a small saucepan over low heat until hot, but do not boil. Put the chocolate in a heatproof bowl and pour over the hot cream. Allow to stand for 1 minute then stir until smooth. Set aside to cool.

9

Spoon the chocolate mixture into the bowl of a stand mixer with the whisk attachment. Whisk on low speed until just thickened.

10

Transfer the pavlova to a serving platter. Spoon the chocolate cream over the top of the pavlova. Top with fresh berries and spoon over the strawberry sauce. Serve.