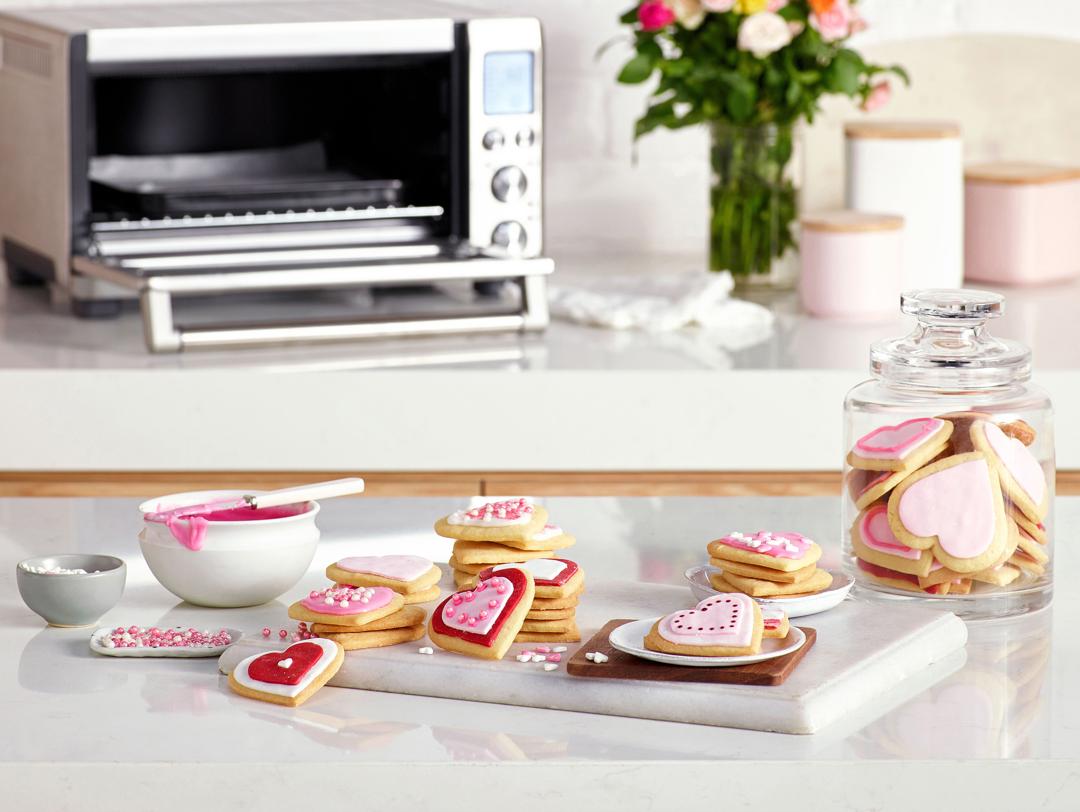 Ingredients
---
For the cookies:
2 cups (10½ oz) all-purpose flour

plus extra for dusting

⅔ cup (3¾ oz) powdered sugar

plus extra for dusting

7 oz cold unsalted butter

chopped
For the royal icing:
1½ cups (7 oz) powdered sugar

sifted

Pink or red food colouring
For the colored fondant:
Pink or red food colouring
Instructions
1

To make the cookies, put the flour and powdered sugar in a food processor. Pulse to combine. Add the butter and process until the mixture resembles fine crumbs. Combine the egg yolks, water and vanilla. Pour over the flour mixture and process until the dough comes together to form a ball. Transfer to a lightly floured countertop.

2

Divide the dough into two equal portions. Shape each portion into a ½-inch thick disk. Wrap in parchment paper and refrigerate for 1 hour, until firm.

3

Roll one portion of the dough between two sheets of parchment paper until ¼ inch -thick. Using a 3 inch (top to tip measurement) heart shaped cookie cutter, cut out 6 cookies, re-rolling and cutting more cookies until you have 10. Put the cookies on a parchment paper lined tray and refrigerate for 30 minutes until firm, this helps the cookies retain their shape during baking. Repeat with the remaining dough.

4

Insert the wire rack into the center shelf position. Preheat the oven. Select BAKE/325°F/CONVECTION/12 minutes and press start.

5

Line the pizza pan with parchment paper. Place 6 cookies evenly spaced on the pan, not too close to the edge.

6

Once preheated, put the cookies in the oven and bake for 12 minutes until light golden around the edges.

7

Remove the cookies from the oven and cool on the tray for 5 minutes. Then transfer to a wire rack to cool completely.

8

Repeat with the remaining cookie dough to bake 20 cookies.

9

To make the royal icing, put the egg white and lemon juice in the bowl of a stand mixer with the whisk attachment. Whisk on low speed for 20 seconds. Increase the speed to medium, and gradually add the powdered sugar, whisking until thick and smooth. Add a few drops of food colouring until desired color is reached.

10

To make the colored fondant, dust the counter lightly with powdered sugar. Knead the fondant on the lightly dusted counter until smooth. Cut in half and color one half pink and one half red, kneading until smooth. Roll the fondant out to ¼ inch -thick. Cut heart shapes from the fondant using 1 ½ inch and 2 inch heart shaped cookie cutters.

11

To decorate, pipe or spread the royal icing onto some of the cookies, decorate with sprinkles as desired. Alternatively, top the cookies with fondant. Brush lightly with water and decorate with sprinkles.

12

Allow the icing to set completely before storing, layered with parchment paper, in an airtight container for up to 3 days.