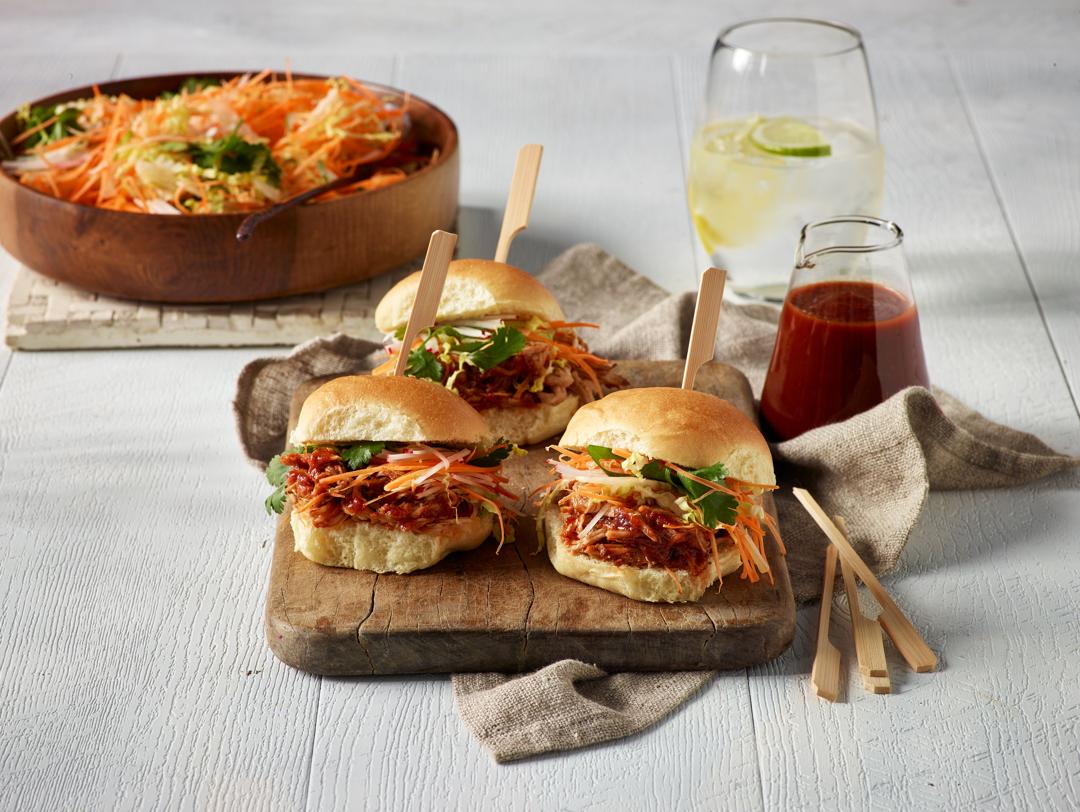 Ingredients
---
For the spice rub:
1 tsp freshly ground black pepper

1 tsp crushed red pepper flakes
For the pulled pork:
4 ½-5 ½ lb boneless pork shoulder

cut into 4 pieces

1 large yellow onion

thinly sliced

1¼ cups (10 fl oz) apple cider vinegar

¼ cup (2 fl oz) Worcestershire sauce
For the barbecue sauce:
1 cup (8 fl oz) canned crushed tomatoes

⅓ cup (2¾ fl oz) apple cider vinegar

¼ cup (3¼ oz) Lyle's golden syrup

3 tbsp (1½ fl oz) Worcestershire sauce

¼ cup (1¾ oz) dark brown sugar

Freshly ground black pepper

to season
To serve:
12 large burger rolls

warmed, split
Instructions
1

To make the spice rub, put all the ingredients in a small bowl and stir to combine.

2

To make the pulled pork, put the pork in a large bowl. Sprinkle over the spice rub. Use your fingertips to rub the mixture into the pork until it is evenly coated. Cover with plastic wrap and refrigerate for 1-2 hours or overnight.

3

Put the onion and garlic in the bottom of a greased 4 ½ qt Dutch oven. Put the pork on top.

4

Combine the apple cider vinegar, Worcestershire sauce and water in a measuring cup, then pour into the Dutch oven. Cover with a tight-fitting lid or two layers of foil, pressed down around the edges to seal.

5

Insert the wire rack into the bottom shelf position. Preheat the oven. Select SLOW COOK/CONVECTION/HIGH/5 hours and press start.

6

Once preheated, put the pork in the oven and cook for 5 hours.

7

Meanwhile, to make the barbecue sauce, combine all the ingredients in a medium saucepan. Cook, stirring often over medium heat, for 10 minutes until the sauce comes to a boil.

8

Reduce heat to low and simmer, stirring occasionally, for 40 minutes until the sauce has thickened. Season with sea salt and pepper. Set aside to cool completely.

9

Transfer the pork to a tray. Using 2 forks, shred the pork, discarding any fat and gristle. Strain the pan juices from the pork into a measuring cup. Pour 1 cup (8 fl oz) into a medium saucepan. Add 1 cup (8 fl oz) of the barbecue sauce. Stir over medium heat until hot. Pour over the shredded pork, stir gently to coat.

10

Top the bun bottoms with the pulled pork, cabbage, carrot, radish, cilantro and a spoonful of the remaining barbecue sauce. Sandwich with bun tops.

11

Alternatively serve the pulled pork over baked potatoes, in wraps or tacos.

Tip: Before you start, check that the Dutch oven fits in the oven.