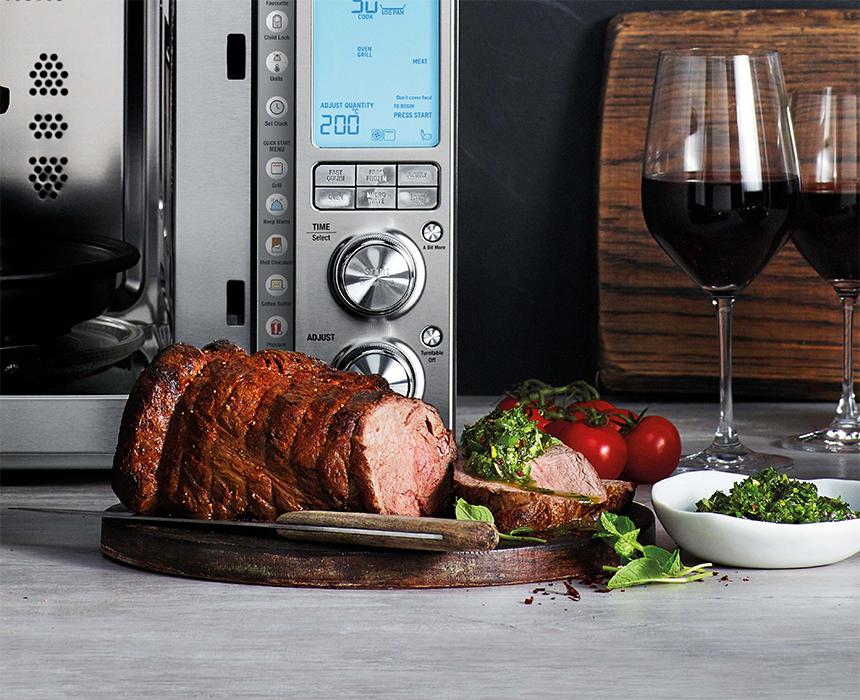 Spice Crusted Beef with Chimmichurri
Ingredients
---
1 (3 lb) boneless beef roast

trimmed

1 tbsp extra-virgin olive oil

1 tsp freshly cracked black pepper
Chimichurri:
½ cup extra-virgin olive oil

½ cup finely chopped Italian parsley

¼ cup finely chopped shallot
Instructions
1

Using kitchen string, truss roast in ¾-inch (2cm) intervals. Combine olive oil, salt and spices in small bowl and rub all over roast.

2

Place roast in Combi Crisp pan and place in microwave in low position. Press FOOD MENU and select COOK, then BEEF, 3.0 lbs. Press START to begin cooking.

3

Make Chimichurri: Combine all ingredients in a small bowl, season with salt and reserve.

4

Let roast rest, covered, for 10 minutes before slicing and serving with Chimichurri.