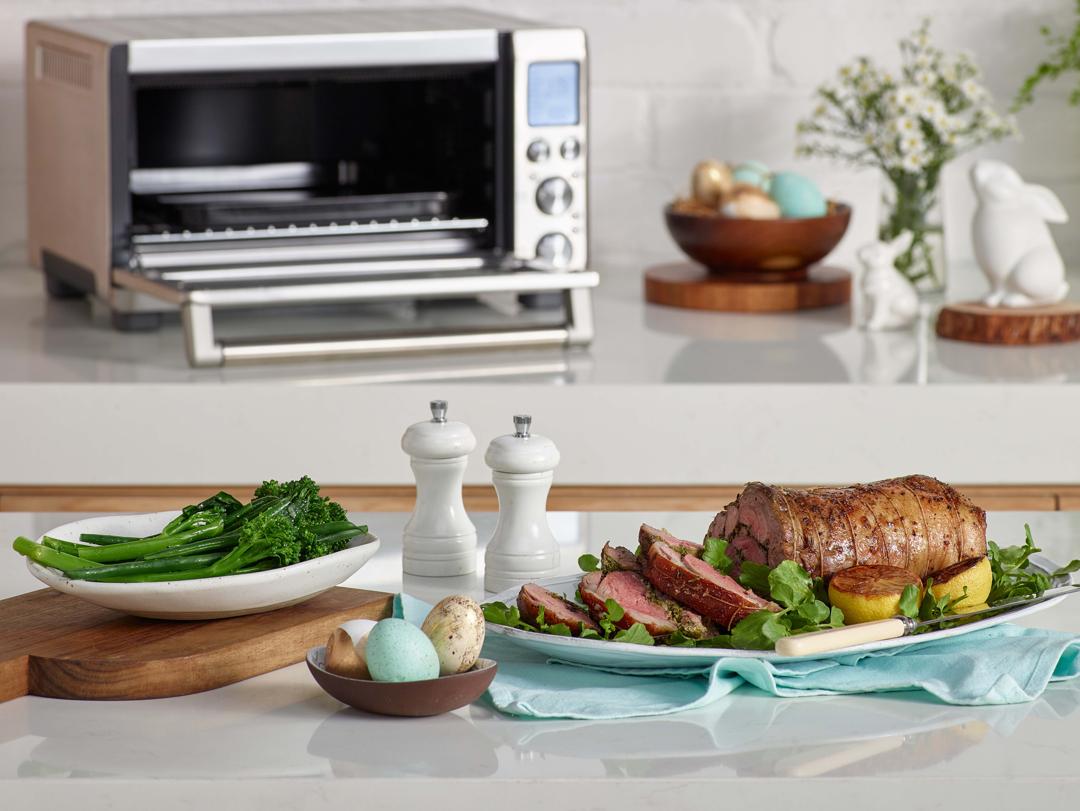 Herb and Citrus Roasted Lamb
Ingredients
---
1 tbsp fresh rosemary leaves

1 cup (¾ oz) loosely packed flat-leaf parsley leaves

1 tbsp fresh thyme leaves

⅓ cup (2¾ fl oz) olive oil

divided

1 tbsp finely grated lemon zest

1 tbsp finely grated orange zest

1 tbsp whole grain mustard

3½ lb boneless leg of lamb or lamb shoulder

fat trimmed and butterflied

Freshly ground black pepper

to season
Instructions
1

Combine the rosemary, parsley, thyme, garlic, cumin, ¼ cup (2 fl oz) olive oil, lemon zest, orange zest and lemon juice in the small bowl of a food processor. Process to a coarse puree. Spoon the puree into a bowl and set aside.

2

Combine the mustard, honey and remaining oil in a small bowl and mix well.

3

Unroll the lamb and place fat side down between 2 pieces of plastic wrap. Make a few shallow cuts in the thicker portions of the lamb, this will help it to flatten more easily when pounding. Pound the lamb using a rolling pin or meat mallet to about ¾ inch thick, creating a rectangular shape.

4

Season both sides of the lamb with salt and pepper, then place the lamb on a board fat side down. Spread the herb and citrus puree evenly over the lamb.

5

Starting from a short side, tightly roll the lamb. Using kitchen twine, tie at 1 inch intervals to secure the lamb and create a round shape.

6

Put the lamb in the roasting pan. Brush all over with the mustard mixture. Put the lemon, cut side down in the pan.

7

Insert the wire rack in the bottom shelf position. Preheat the oven. Select ROAST/325°F/65 minutes.

8

Once preheated, put the lamb in the oven and cook for 65 minutes for medium-rare.

9

Transfer the lamb to a plate, cover loosely with foil and set aside to rest for 20 minutes.

10

Arrange the watercress on a serving platter, top with the lamb and roasted lemon. Slice and serve.