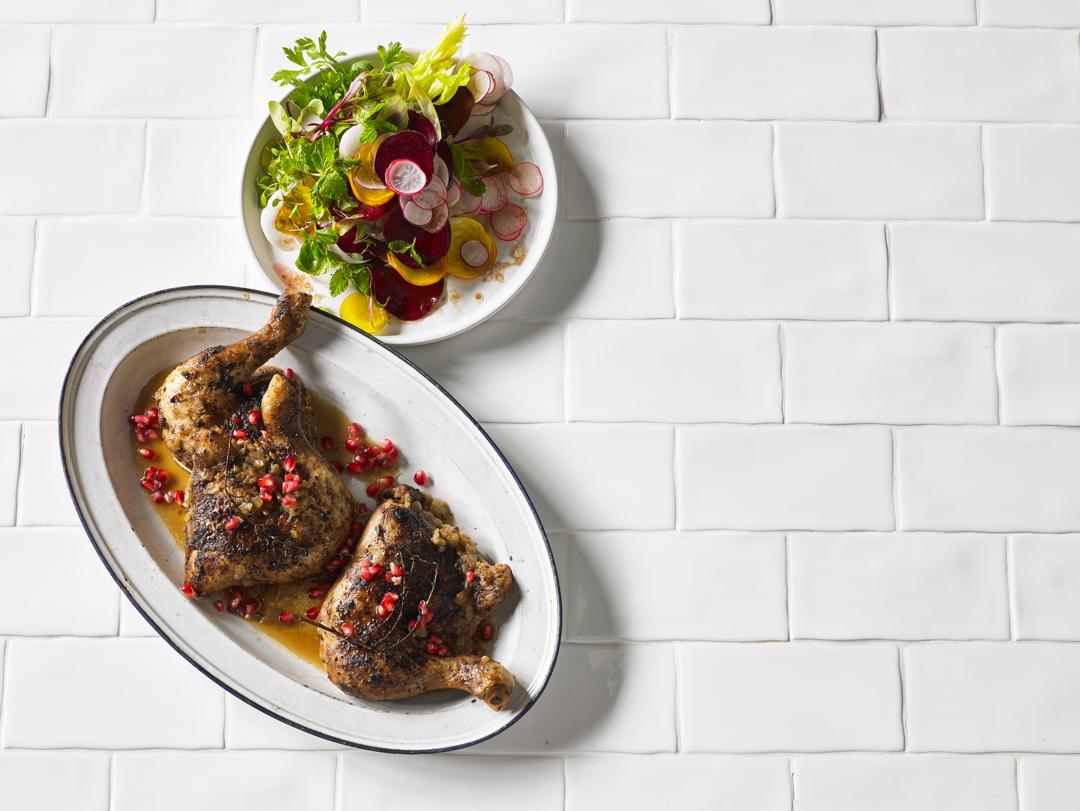 Braised Spiced Chicken with Pickled Beet Salad
Ingredients
---
2 tbsp middle eastern spice blend such as baharat or za'atar

¼ cup (2 fl oz) olive oil

divided, plus extra for greasing

1 medium yellow onion

finely chopped

2 cloves garlic

finely chopped

1 tsp crushed red pepper flakes

1½ cups (12 fl oz) chicken stock
For the beet salad:
1 cup (8 fl oz) white wine vinegar

½ cup (3½ oz) granulated sugar

1 medium yellow beet

peeled

4 red radishes

washed and trimmed

3 tbsp extra-virgin olive oil

1 tbsp pomegranate molasses

¼ cup (¼ oz) loosely packed mint leaves
To serve:
½ pomegranate

seeds removed
Instructions
1

Put the baharat, salt and 2 tablespoons of the oil in a bowl. Mix well to combine.

2

Put the chicken on a large plate. Spoon over the spice mixture and rub all over to coat the chicken.

3

Heat a large non-stick skillet over medium-high heat. Add 2 teaspoons of the remaining oil. Add 2 pieces of chicken, skin side down and cook for 2-3 minutes until browned, then turn over and cook the other side for 1 minute. Transfer to the roasting pan, skin side up. Wipe the skillet clean and repeat with 2 teaspoons oil and the remaining chicken.

4

Add the remaining oil to the skillet with the onion, garlic and pepper flakes. Cook, stirring occasionally, for 3-4 minutes until the onion starts to soften. Add the stock and gently scrape the bottom of the pan with a wooden spoon to dissolve any sediment. Bring to a boil, add the thyme and season with salt and pepper.

5

Pour the stock mixture over the chicken. Cover tightly with foil.

6

Insert the wire rack into the bottom shelf position. Preheat the oven. Select ROAST/CONVECTION/350°F/60 minutes and press start.

7

Once preheated, put the chicken in the oven and roast for 30 minutes. Remove the foil and roast for a further 30 minutes until the chicken is cooked through.

8

To make the beet salad, put the vinegar, sugar, salt and peppercorns in a small saucepan. Stir over medium heat until the sugar has dissolved. Bring to a boil. Set aside to cool for 10 minutes.

9

Using a mandolin, thinly slice the beets, fennel and radishes. Pour 1/3 cup (2 ¾ fl oz) of the pickling liquid into one bowl. Add the red beet. Pour the remaining pickling liquid into a separate bowl. Add the yellow beet, fennel and radishes. Let stand for 30 minutes, stirring occasionally.

10

Just before serving, drain the vegetables and combine in a clean bowl. Whisk the olive oil and pomegranate molasses together and pour over the pickled vegetables. Add the mint and toss gently to combine.

11

Transfer the chicken to serving plates, and spoon over some of the pan juices. Scatter over the pomegranate seeds and serve with the beet salad.