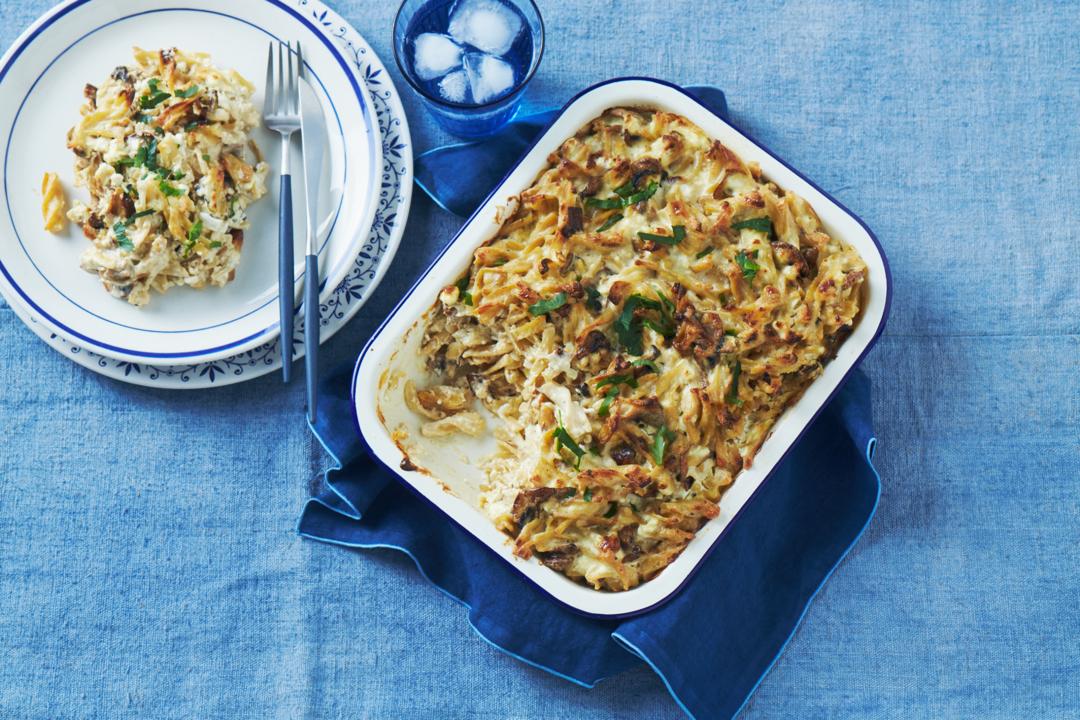 Ingredients
---
½ cup unsalted butter

divided

12 oz button mushrooms

sliced

1½ tsp kosher salt

divided + 3 tablespoons for cooking noodles

1 tbsp fresh thyme leaves

chopped

½ tsp freshly ground black pepper
Instructions
1

Heat 4 tablespoons (60g) butter in a large skillet over medium-high heat. Add onion and ½ teaspoon salt and cook, stirring frequently, until soft and golden brown, about 10 minutes.

2

Add the mushrooms, an additional ½ teaspoon salt and the thyme to the onions and cook, stirring frequently, until mushrooms have cooked down and are dark brown, about 10 minutes. Deglaze pan with a few tablespoons of water as needed during cooking.

3

While onions and mushrooms are cooking, bring 5 quarts of water to a boil. Add 3 tablespoons salt and egg noodles. Cook until tender, 8–9 minutes. Drain noodles.

4

Place 3 tablespoons (45g) butter in a large bowl. Add drained noodles and stir until butter is melted and evenly coats the noodles.

5

Combine eggs, cottage cheese, sour cream, ½ teaspoon salt, pepper and lemon zest in a second large bowl and whisk well. Add onions, mushrooms and buttered noodles to egg mixture and stir to combine.

6

Use remaining 1 tablespoon butter to grease the bottom and sides of a 10½ x 15½ x 1-inch jelly roll pan. Spread noodle mixture evenly in pan.

7

Insert wire rack into rack position 6. Select BAKE/425°F/CONVECTION/ 20 minutes and press START to preheat oven.

8

Once preheated, place pan in the oven and bake for 20 minutes or until brown and crispy on top.

9

Serve hot or at room temperature.

Tip: Kugel can also be baked in a buttered 9 x 13-inch baking dish. Increase cooking time as necessary.