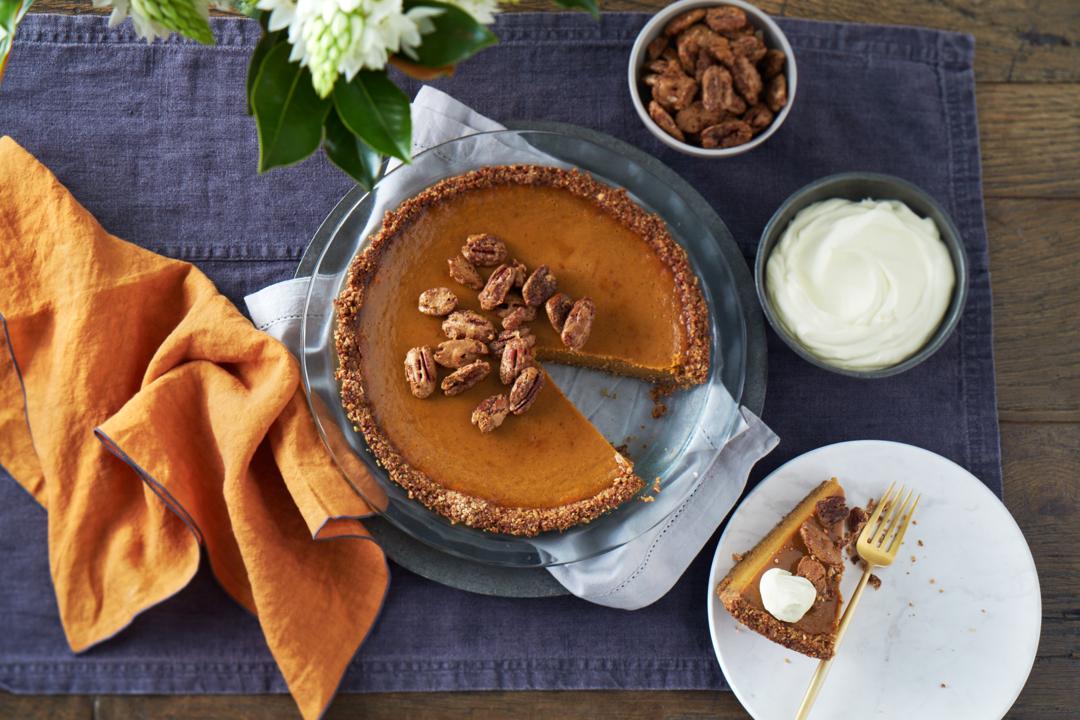 Pumpkin Pie with Oat and Pecan Crust
Ingredients
---
Crust:
1½ cups old fashioned oats

6 tbsp unsalted butter

melted
Instructions
1

For the crust; Combine oats, pecans, brown sugar, cinnamon and salt in the bowl of a Breville food processor. Process until finely ground, 30–45 seconds. Transfer oat mixture to a large bowl. Add melted butter and stir well to combine.

2

Press oat mixture into the bottom and sides of the pie plate, forming a crust near, but not over, the top edge. Freeze crust for 15 minutes.

3

Insert wire rack in rack position 7. Select BAKE/350°F/CONVECTION/20 minutes and press START to preheat oven.

4

Loosely line the chilled crust with 2 large sheets of aluminum foil, making sure to cover the top edges.

5

Once preheated place pie plate in the oven and bake for 20 minutes then remove the foil and continue baking for 5 more minutes, until the crust looks dry and light golden brown. Remove pie plate from oven, and, if any cracks have formed, use the foil to gently press the crust back together. Let sit at room temperature while making the filling.

6

For the filling; Combine pumpkin puree, brown sugar, salt and spices in the bowl of a Breville food processor. Process until smooth, about 30 seconds, scraping down sides as needed.

7

Transfer puree to a medium saucepan and cook over medium heat, stirring frequently, until puree is steaming hot and mixture starts to sputter, about 5 minutes. Remove from heat.

8

Whisk together milk, cream, eggs and vanilla in a large bowl. Slowly whisk in the puree, being careful not to add it too fast.

9

Select BAKE/350°F/CONVECTION/ 25 minutes and press START to preheat oven.

10

Pour warm filling into the crust.

11

Once preheated, place pie into the oven and bake for 25 minutes or until filling is just set but still jiggles in the middle. Cool pie on a wire rack for at least 2 hours. Cooled pie can be covered and chilled overnight before serving.

12

While the pie cools, make the candied pecans; Insert wire rack in rack position 6. Select BAKE/300°F/CONVECTION/25 minutes and press START to preheat oven.

13

Line the roasting pan with parchment paper. Combine sugar, salt, cinnamon and cayenne in a small bowl. In a large bowl, lightly beat egg white until slightly foamy. Stir in sugar mixture until a smooth batter forms. Fold in pecans until evenly coated. Spread glazed pecans evenly on the prepared baking sheet and bake until pecans are lightly toasted, about 25 minutes. Let pecans cool on pan, stirring every few minutes to prevent sticking. Once cool, break up any remaining clumps. Pecans can be stored in an airtight container at room temperature for up to 1 week.

14

Serve with candied pecans and whipped cream.

Tip: When pressing crumb mixture into the pie plate, form the sides first and then the bottom, then fill in the edges where they meet. Distribute any remaining crumbs around the top edge to form a crust. Filling should be very warm when poured into crust, so do not start cooking it until the crust is fully baked.