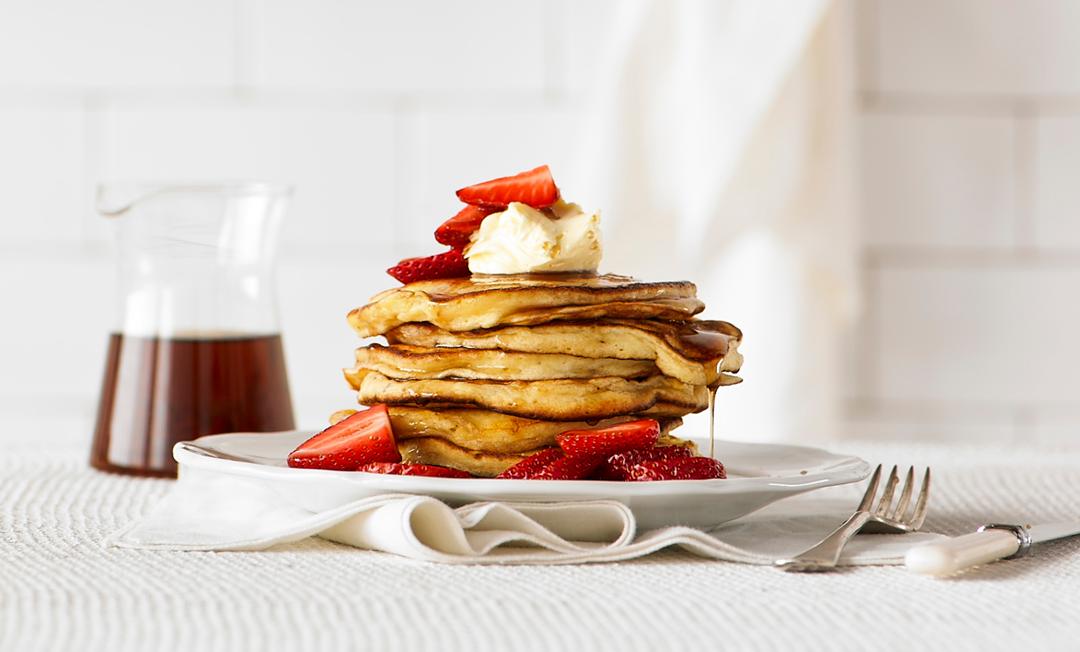 Ingredients
---
¾ cup (3½ oz) self-rising flour

sifted

1½ tsp baking powder

sifted

Unsalted butter

for greasing
Instructions
1

Assemble the mixer using the glass mixer bowl and whisk attachment. Put the egg whites in the bowl. Turn the mixer to AERATE/WHIP setting and whisk until soft peaks form. Add the sugar and whisk for 1 minute. Transfer the egg white mixture to another bowl.

2

Put the egg yolks, ricotta and milk in the mixer bowl. Using the whisk attachment, turn the mixer to CREAMING/BEATING setting and mix until smooth and combined. Reduce the speed to the FOLDING/KNEADING setting and add the sifted flour and baking powder and mix until just combined. Return the egg white mixture to the mixer bowl and mix on FOLDING/KNEADING setting until just combined.

3

Heat a large skillet over medium heat. Lightly grease with butter. Cooking in batches, pour 1/3 cup of the batter per pancake, cook for 3 minutes until bubbles appear on surface. Flip and cook for 3 minutes until cooked through. Transfer to a plate. Cover loosely with foil to keep warm. Repeat with remaining batter, brushing pan with butter between batches.

4

Serve pancakes with maple syrup, whipped butter and strawberries.

Tip: For berry ricotta pancakes, pour batter into skillet and top with several fresh berries before flipping over and cooking other side.