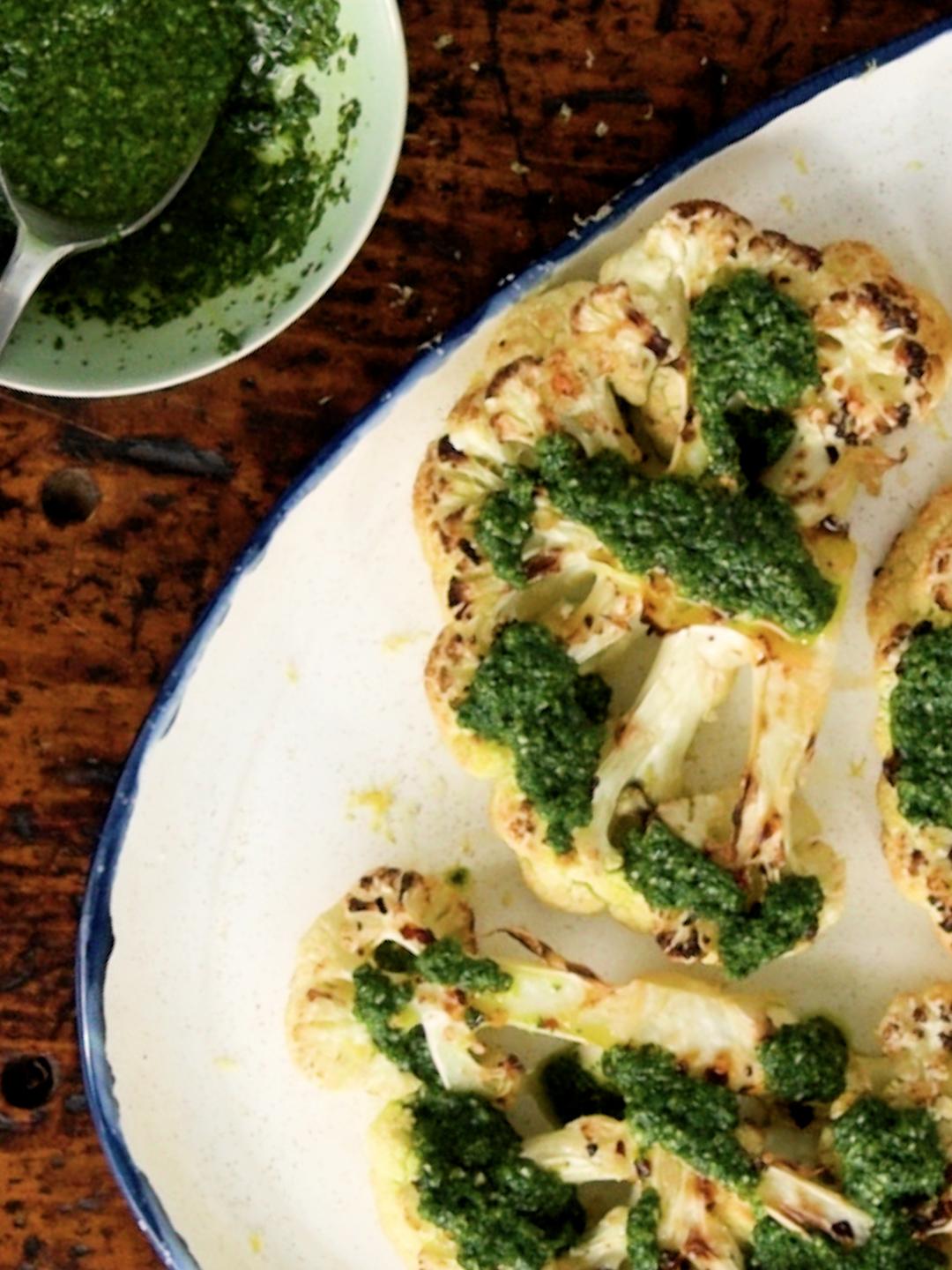 Air-Fried Cauliflower Steaks with Chimichurri
These thick slabs of cauliflower are air-fried until perfectly tender then topped with an aromatic blend of fresh herbs, sherry vinegar and extra virgin olive oil. Aside from being full of flavor, this recipe is also low carb, vegan and gluten-free.
Ingredients
---
For the cauliflower:
2 medium heads cauliflower

¼ cup (2 fl oz) olive oil

½ tsp crushed red pepper flakes (optional)

1 lemon

plus extra to serve
For the chimichurri:
1 cup (1 oz) firmly packed flat-leaf parsley leaves

½ cup (½ oz) firmly packed cilantro leaves

1 jalapeño pepper

deseeded

⅓ cup (2¾ fl oz) extra-virgin olive oil
Instructions
1

Insert the wire rack into position 4. Meanwhile, continue to the next step.

2

Trim the ends off the cauliflower and cut each head into two steaks, approximately 1-inch thick.

Tip: A great way to use up the leftover cauliflower, cut into small florets and toss in oil and curry powder then season with salt and pepper. Air fry until starting to caramelize.

3

Place the cauliflower on the broiling rack in the roasting pan. Brush with the oil and sprinkle with the salt and pepper flakes. Using a microplane, finely grate the lemon zest over the cauliflower.

4

Once preheated, place the pan in the oven and start Autopilot. Meanwhile, make the chimichurri.

5

Place the herbs, jalapeño, garlic and salt in the bowl of a small food processor and process until finely chopped. Scrape down the side. Add the vinegar and oil and process to combine. Set aside.

6

To test if the cauliflower is ready, insert the tip of a knife or skewer into the core, it should slide in easily. If not, give it a bit more.

7

Transfer the cauliflower to a serving plate, top with grated lemon zest and the chimichurri and serve.