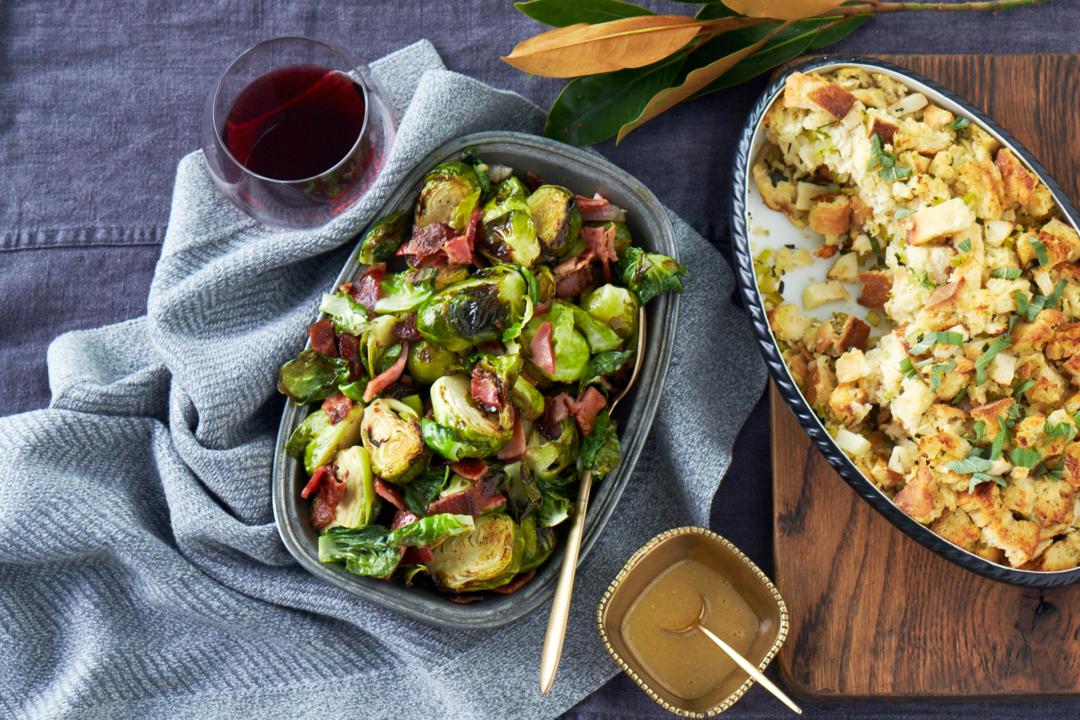 Air-Fried Maple Glazed Brussels Sprouts with Bacon
Ingredients
---
1½ lb Brussels sprouts

trimmed and halved lengthwise

¾ tsp freshly ground black pepper

1 large shallot

cut into ¼-inch slices
Instructions
1

Insert wire rack in rack position 6. Select BAKE/350°F/CONVECTION/ 20 minutes and press START to preheat oven.

2

Line roasting pan with foil and lay bacon strips in pan. Cook bacon, flipping once, until browned and crisp. Transfer bacon to a paper towel-lined plate to cool and reserve the fat in the roasting pan. When bacon has cooled, cut crosswise into ¼-inch slices and set aside.

3

Place Brussels sprouts and shallot in a large bowl. Measure 2 tablespoons of warm bacon fat and add to bowl. Sprinkle with salt and pepper and toss well to evenly coat.

4

Select AIRFRY/400°F/SUPER CONVECTION/15 minutes and press START to preheat oven.

5

Spread Brussels sprouts mixture in a single layer on the airfry basket. Cook for 15 minutes or until Brussels sprouts are deeply browned and crisp on the outside, tossing a few times with a spatula for even browning.

6

While Brussels sprouts are cooking, add maple syrup and mustard to a small saucepan. Cook over medium heat for 2–3 minutes until slightly thickened. Remove from heat.

7

Place Brussels sprouts mixture in a large bowl and drizzle on maple glaze. Add lemon juice to taste, tossing to evenly coat. Garnish with crispy bacon and serve.