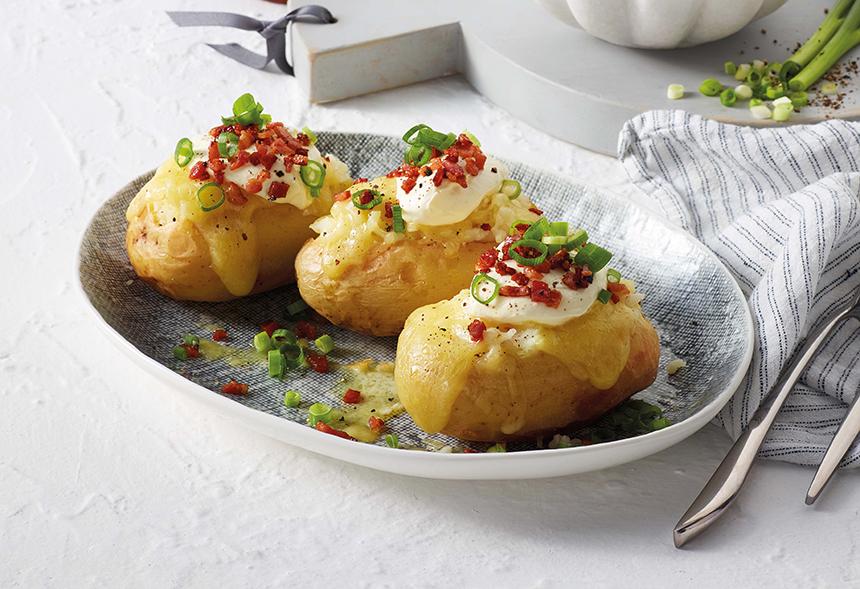 Ingredients
---
4 (10 oz) russet potatoes

Kosher salt and freshly cracked black pepper

½ cup shredded cheddar cheese

2 tbsp thinly sliced green onions
Instructions
1

Place bacon on microwave safe plate in a single layer and place on turntable. Press FOOD MENU and select COOK, then BACON, 4 slices. Press START to begin cooking. When finished cooking, cool, chop and reserve.

2

Press OVEN and set 400°F for 50 minutes. Press START to preheat oven.

3

Pierce each potato 4-5 times with a fork or small knife, rub with olive oil and season with salt and pepper. Place potatoes in Combi Crisp pan and place in microwave in low position. Press START to begin cooking.

4

Cool potatoes for 5 minutes then use a sharp knife to score top of each potato. Push open and sprinkle with cheese.

5

Press MICROWAVE and set 100% for 30 seconds. Press START to begin cooking.

6

Serve topped with sour cream, green onions and bacon.