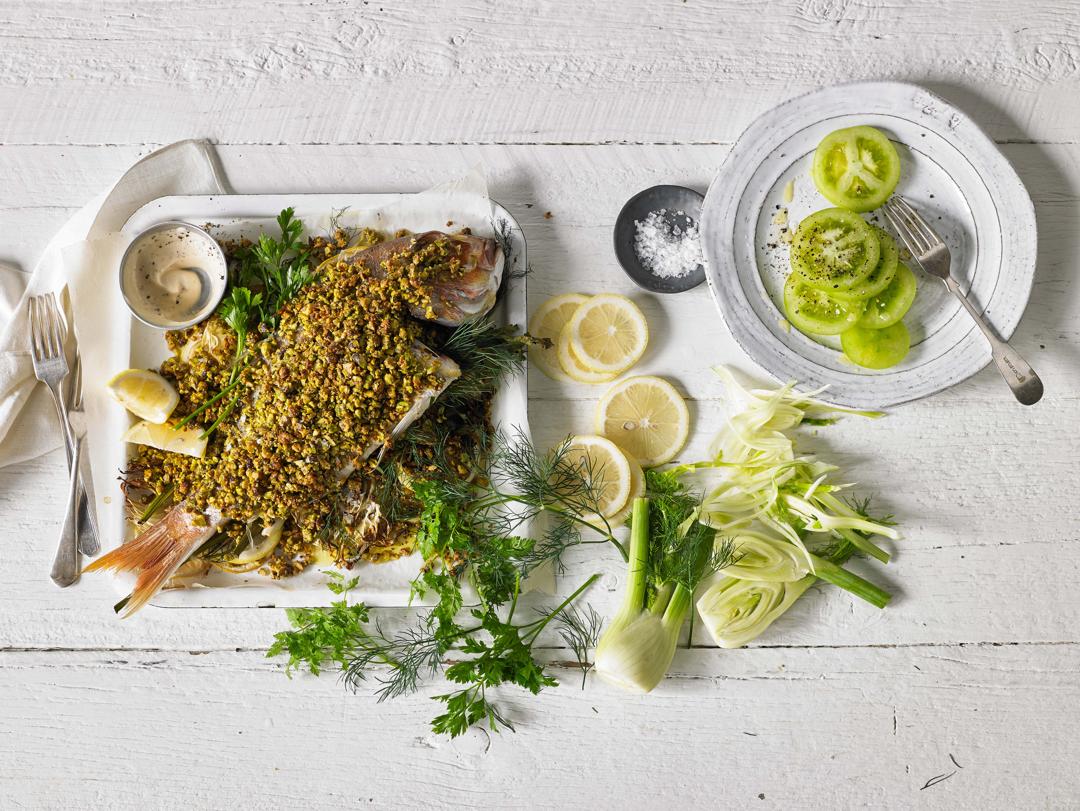 Baked Snapper with Pistachio Crust
Ingredients
---
1 (23 oz) medium whole snapper

cleaned and scaled

1 medium lemon

thinly sliced

¼ cup (¼ oz) loosely packed dill

¼ cup (¼ oz) firmly packed flat-leaf parsley leaves

¼ cup (¼ oz) firmly packed cilantro leaves

Freshly ground black pepper

to season

1 cup (5 oz) shelled pistachios

¼ cup (2 fl oz) extra-virgin olive oil

divided
Instructions
1

Line the roasting pan with parchment paper.

2

Rinse the cavity of the snapper under cold water and pat dry with paper towel. Make 3 shallow cuts into the thickest part of both sides of the snapper.

3

Remove the fronds from the fennel and set aside. Using a mandolin, thinly slice the fennel bulbs.

4

Fill the cavity of the snapper with some of the fennel, lemon and herbs. Arrange the remaining fennel, lemon and herbs over the bottom of the prepared pan. Season both sides of the snapper with salt and pepper. Place the snapper on the fennel mixture in the roasting pan.

5

Put the pistachios, fennel fronds and 2 tablespoons of the oil in a food processor. Process for 15-20 seconds until chopped with some larger nuts remaining. The mixture should just hold together when you squeeze it in the hand. If the mix is too dry, add a little more oil and pulse again.

6

Press the pistachio mixture over the top of the snapper to create a crust. Drizzle with the remaining oil.

7

Insert the wire rack into the bottom shelf position. Preheat the oven. Select BAKE/ CONVECTION/350°F/35 minutes.

8

Once preheated, put the snapper in the oven and bake for 35 minutes.

9

Remove the snapper from the oven. Using the tip of a knife, make an incision near the head of the fish into the flesh. The flesh should be white, tender and pulling away from the bone, and the crust should be firm.

10

Transfer the snapper and fennel to a serving platter. Serve with aioli and lemon wedges.