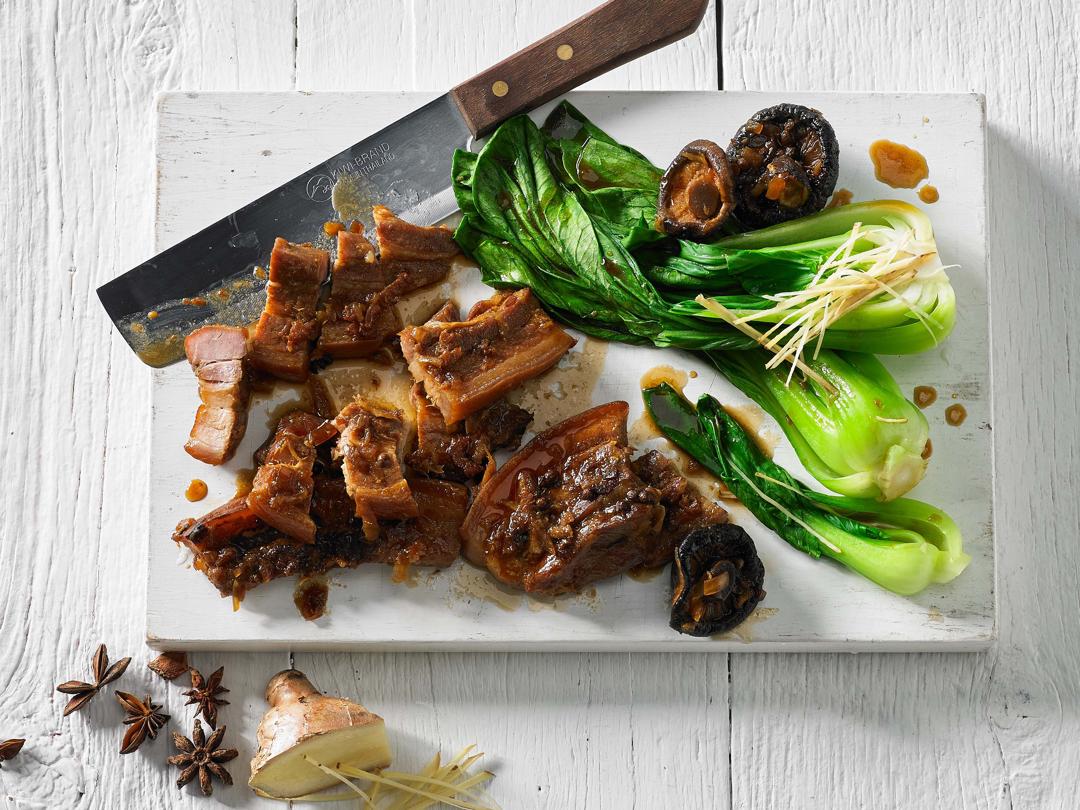 Pork Belly with Sichuan Pepper
Ingredients
---
⅔ cup (5½ fl oz) oyster sauce

⅓ cup (2¾ fl oz) soy sauce

1 orange

zested and juiced

3 makrut (wild) lime leaf

¾ oz 2 inch piece fresh ginger

peeled and sliced

2 tbsp Sichuan peppercorns

1 medium yellow onion

thinly sliced

7 oz fresh shiitake mushrooms

3 long hot red chili peppers

halved lengthwise

⅓ cup (4½ oz) honey

divided

12 (2¼ lb) thick slices fresh pork belly
Instructions
1

Insert the rack into the bottom shelf position. Preheat the oven. Select SLOW COOK/CONVECTION/ HIGH and press start, then reduce the cooking time to 2 hours.

2

Put the oyster sauce, soy sauce, orange zest and juice, water, lime leaves, ginger, garlic, Sichuan peppercorns, onion, mushrooms, star anise, peppers and ¼ cup (3 ¼ oz) of the honey in a 4 qt Dutch oven and stir until well combined. Add the pork, pressing down into the marinade. Press a piece of parchment paper onto the surface, this helps keep the pork submerged. Cover with a tight-fitting lid or double layer of foil, pressed down around the edges to seal.

3

Once preheated, place put the pork in the oven. Cook for 2 hours until tender.

4

Set the broiling rack over the roasting pan. Remove the pork from the braising liquid, reserving the braising liquid. Place the pork in a single layer on the broiling rack. Spoon ½ cup (4 fl oz) of the braising liquid over the pork.

5

In a small bowl, mix together the remaining honey and 3 tablespoons of the reserved braising liquid.

6

Brush the pork generously with the honey mixture.

7

Move the rack to the middle shelf position. Place the pork in the oven. Select BROIL/HIGH/8 minutes and press start.

8

Remove the pork from the oven, turn over and brush again with the remaining honey mixture. Return to the oven. Select BROIL/ HIGH/8 minutes and press start.

9

Transfer the pork to a board, cut into pieces. Spoon over the juices from the roasting pan. Serve with choy sum and rice.

Tip: Before you begin cooking, check that the Dutch oven fits in the oven.