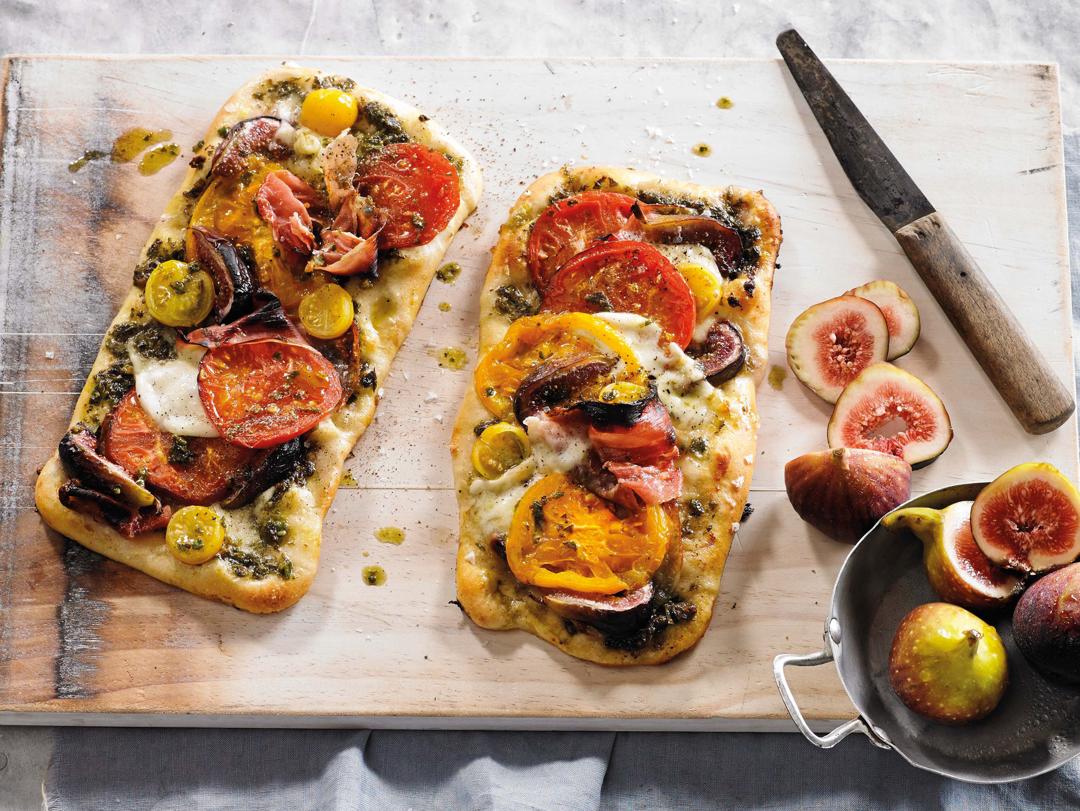 Tomato, Basil and Fig Pizza
Ingredients
---
For the dough:
3⅓ cups (17½ oz) bread flour

2 tsp instant dried yeast

1 cup (8 fl oz) lukewarm water

approximately
For the basil pesto:
½ cup (4 fl oz) olive oil

2 cups (2 oz) firmly packed basil leaves

1 small clove garlic

peeled

⅓ cup (1½ oz) pine nuts

toasted

1½ oz parmesan cheese

coarsely chopped

Freshly ground black pepper

to season
For the topping:
¼ cup (¾ oz) finely grated parmesan cheese

4 (1 lb) heirloom tomatoes

thickly sliced

2 (4½ oz) buffalo mozzarella

drained

12 slices (7 oz) prosciutto

torn
To serve:
Freshly ground black pepper
Instructions
1

To make the dough, put the flour, yeast, sugar and salt in the bowl of a stand mixer. Using the dough hook, mix to combine. Add the oil and water and mix on medium-low speed for 5 minutes until the dough is smooth and elastic. (Alternatively, combine the dry ingredients in a bowl. Add the oil and water and mix until the dough comes together, add an extra tablespoon of water if necessary. Turn the dough out onto a lightly floured surface and knead for 10 minutes until smooth and elastic.)

2

Put the dough in a lightly oiled bowl, cover with plastic wrap and set aside in a warm place for 1 hour or until the dough doubles in size.

3

Turn the dough out onto a lightly floured surface and punch down to remove the excess air. Knead the dough into a smooth ball. Divide into four, 6 ½ oz pieces.

4

To make the basil pesto, combine all the ingredients in a blender or food processor. Blend or process until combined. Spoon into a clean jar. Cover the top with a thin layer of olive oil. Refrigerate for up to 4 days or freeze for up to 3 months.

5

To make the pizza, turn the ON/OFF switch to the ON position and PREHEAT the pizza oven for 15 minutes.

6

Roll out each piece of pizza dough to form a 8-inch x 5 ½-inches rectangle and place each on a 11 ¾-inch square piece of parchment paper.

7

Prick the crusts with a fork or pizza docker.

8

Spread 1½ tablespoons of basil pesto over each pizza crust, then sprinkle with the Parmesan. Divide the remaining toppings evenly among the crusts.

9

Select the CLASSIC crust setting.

10

Transfer one of the pizzas (still on the parchment paper) to the hot pizza stone and close the lid. Cook for 2 minutes.

11

Open the lid and quickly slide the parchment paper out carefully. Close the lid and cook for a further 5-6 minutes until browned. Monitor the cooking progress through the viewing window. Topping should be cooked and golden and crust crisp and brown.

12

Open the lid carefully with oven mitt and transfer the pizza to a cutting board.

13

Repeat with the remaining pizzas.

14

Drizzle with extra virgin olive oil and season with salt and pepper. Slice and serve.