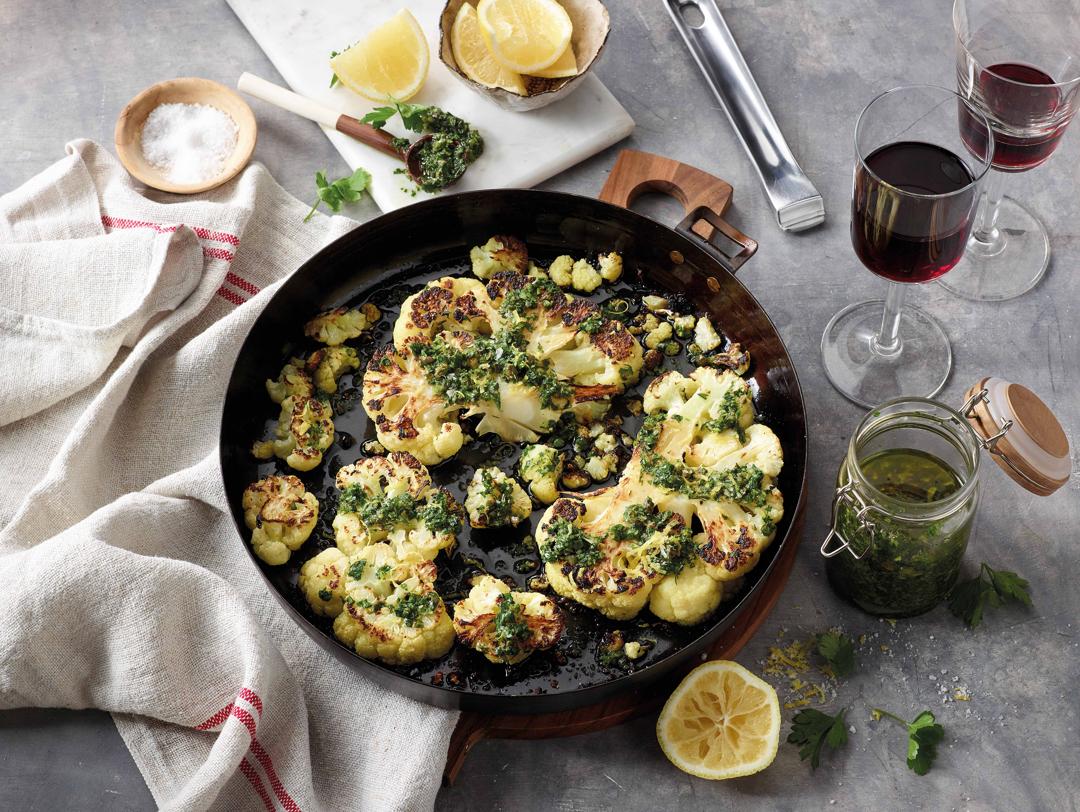 Charred Cauliflower Steaks with Lemon-Herb Sauce
Ingredients
---
For the lemon-herb sauce:
2 cups (2 oz) flat-leaf parsley leaves

2 tbsp coarsely chopped dill

1 tbsp capers

rinsed, drained

1 tbsp finely grated lemon zest

1½ tbsp fresh lemon juice

½ tsp freshly ground black pepper
For the cauliflower steaks:
1 large 2.2 lb head cauliflower

Freshly ground black pepper

to season
Instructions
1

Preheat the oven on the 750°F setting while making the sauce (preheat can take up to 20 minutes).

2

To make the lemon-herb sauce, pulse the parsley, dill, garlic, eschallot, capers, lemon zest and juice, salt and pepper in a food processor until finely chopped.

3

With the motor running, slowly add the oil. Process for 45 seconds until well combined, pausing, if necessary, to scrape the sides. Transfer the sauce to a small bowl, cover and reserve.

4

For the cauliflower steaks, trim the base and the rounded sides from the cauliflower, leaving the core intact. Using a large knife, cut the cauliflower from top to base into three 1-inch-thick steaks. Brush both sides of each steak with half the oil and season with salt and pepper. (Reserve any cauliflower trimmings for another use)

5

Using the removable handle, place the pizza pan in the oven to heat for 2 minutes. Remove the pan and drizzle the remaining oil over the base.

6

Carefully place the cauliflower steaks in the hot pan and return to the oven using the removable handle. Cook for 3 minutes.

7

Using the removable handle, remove the pan from the oven, carefully turn the cauliflower over, then return to the oven and cook for a further 2-3 minutes until browned and tender.

8

Using the removable handle, transfer the pan to a heatproof surface. Spoon the lemon-herb sauce over the cauliflower to serve.