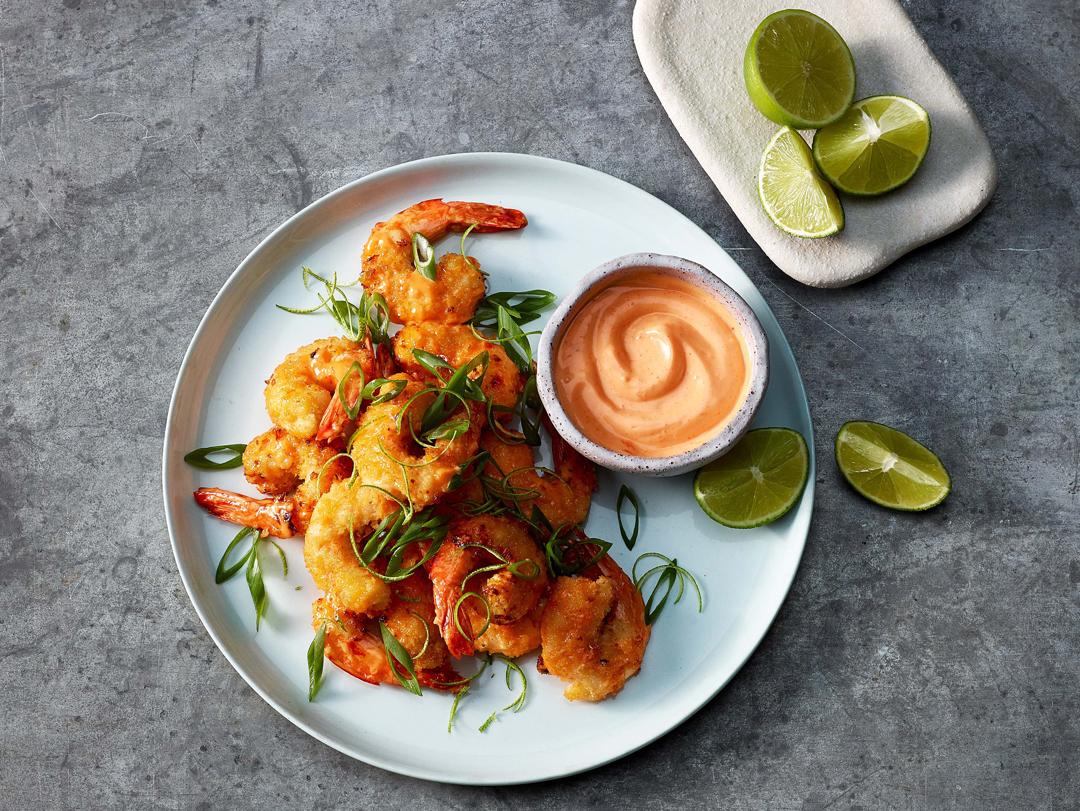 Air-Fried Shrimp with Sriracha Mayonnaise
Ingredients
---
For the shrimp:
¼ cup (1¼ oz) all-purpose flour

1½ cups (3¼ oz) panko breadcrumbs

18 (26 oz) large uncooked shrimps

peeled, deveined with tails intact
For the sriracha mayonnaise:
2 tsp Thai sweet chili sauce
To serve:
2 green onions

thinly sliced
Instructions
1

To prepare the shrimp, place put the flour and cayenne pepper in a bowl and stir to combine.

2

Whisk the eggs together in a shallow dish.

3

Put the breadcrumbs in a bowl.

4

Working with one shrimp at a time, coat the shrimp in the cayenne flour mixture, dusting off any excess, dip in the egg then crumbs, pressing on the crumbs to secure. Place on a plate. Continue until all the prawns are coated. Cover with plastic wrap and refrigerate until ready to air fry.

5

To make the sriracha mayonnaise, whisk the mayonnaise, sriracha and chili sauce together until smooth. Stir in the lime zest. Cover and refrigerate until ready to serve.

6

Preheat the oven. Select AIRFRY/SUPER CONVECTION/425°F/5 minutes and press start.

7

Place the shrimp in the air fry basket, ensuring they are not touching each other.

8

Spray the shrimp with the oil to coat. Turn the shrimp and spray the other side.

9

Once preheated, place the basket in the AIR FRY position and cook for 5 minutes. Carefully remove the basket from the oven, turn the shrimp over and return to the oven. Select AIRFRY/SUPER CONVECTION/425°F/3 minutes and press start.

10

Transfer the shrimp to a large bowl. Add 2 tablespoons of the sriracha mayonnaise and toss gently to coat.

11

Place the shrimp on a serving platter. Garnish with green onions and lime zest. Serve with the remaining sriracha mayonnaise and lime wedges.