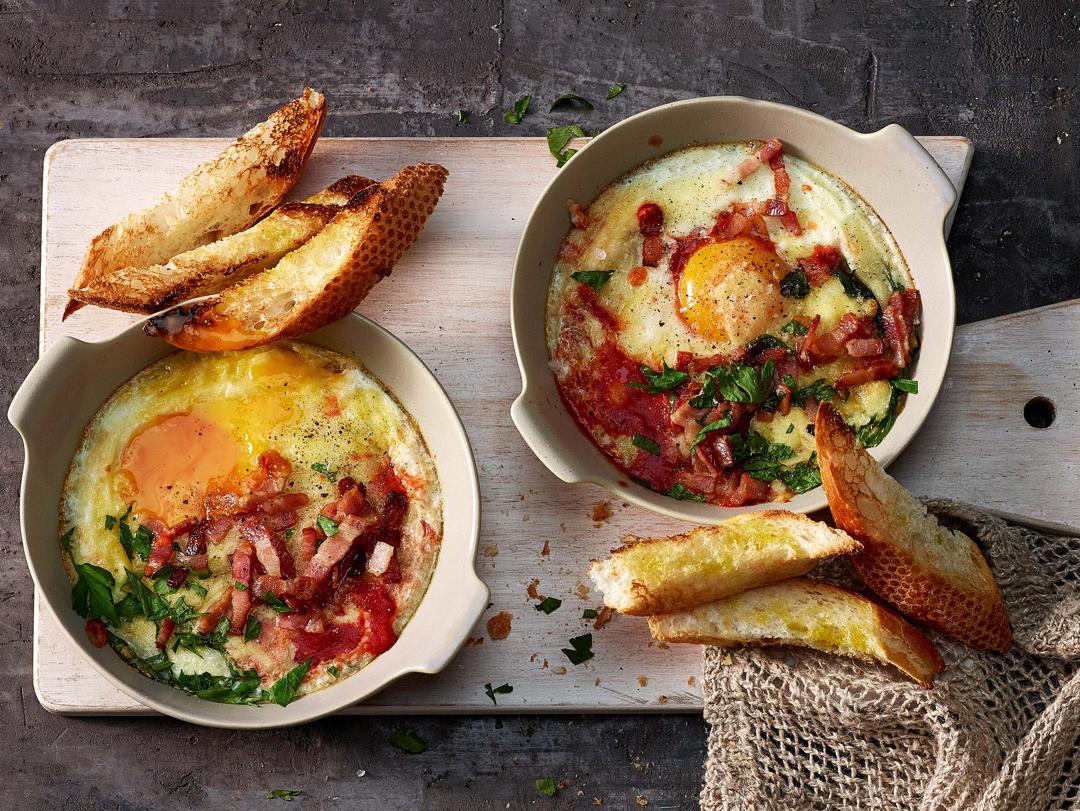 Baked Italian Eggs with Air Fried Bacon
Ingredients
---
2 cups (16 fl oz) canned crushed tomatoes

6 basil leaves

coarsely chopped

Freshly ground black pepper

to season

½ cup (1¾ oz) shredded mozzarella cheese

⅓ cup (¾ oz) grated parmesan cheese
To serve:
2 tbsp coarsely chopped flat-leaf parsley
Instructions
1

Heat the oil in a small saucepan over medium heat. Add the garlic and cook, stirring for 1 minute until fragrant.

2

Add the crushed tomatoes. Bring to a boil. Cook, stirring often for 5 minutes until the sauce reduces and thickens slightly. Remove from the heat and stir in the basil. Season with salt and pepper.

3

Preheat the oven. Select AIRFRY/SUPER CONVECTION/425°F/8 minutes and press start. Line the roasting pan with parchment paper.

4

Cut the bacon crosswise into ½-inch thick batons and place in the AIR FRY basket.

5

Once preheated, place the basket into the AIR FRY position and insert the roasting pan in a lower rack position to catch the drips from the bacon. Cook for 8 minutes until the bacon is just crisp. Set aside.

6

Spoon 1/3 cup of the sauce into the base of four, 5-inch lightly greased individual gratin dishes.

7

Crack one egg over the sauce into each gratin dish. Sprinkle with the mozzarella and Parmesan. Spoon 2 teaspoons of the milk over the cheese in each gratin dish.

8

Insert the wire rack into the middle shelf position. Preheat the oven. Select, BAKE/CONVECTION/375°F/9 minutes.

9

Once preheated, place the gratin dishes into the oven on the wire rack and bake for 9 minutes until the egg is almost cooked to your liking.

10

Put the bacon back into the oven in the top shelf position to reheat. Select BROIL/ HIGH/1 minute.

11

Remove the bacon from the oven and spoon it evenly over the four gratins. Sprinkle with the chopped parsley, season with pepper and serve with the toasted baguette.