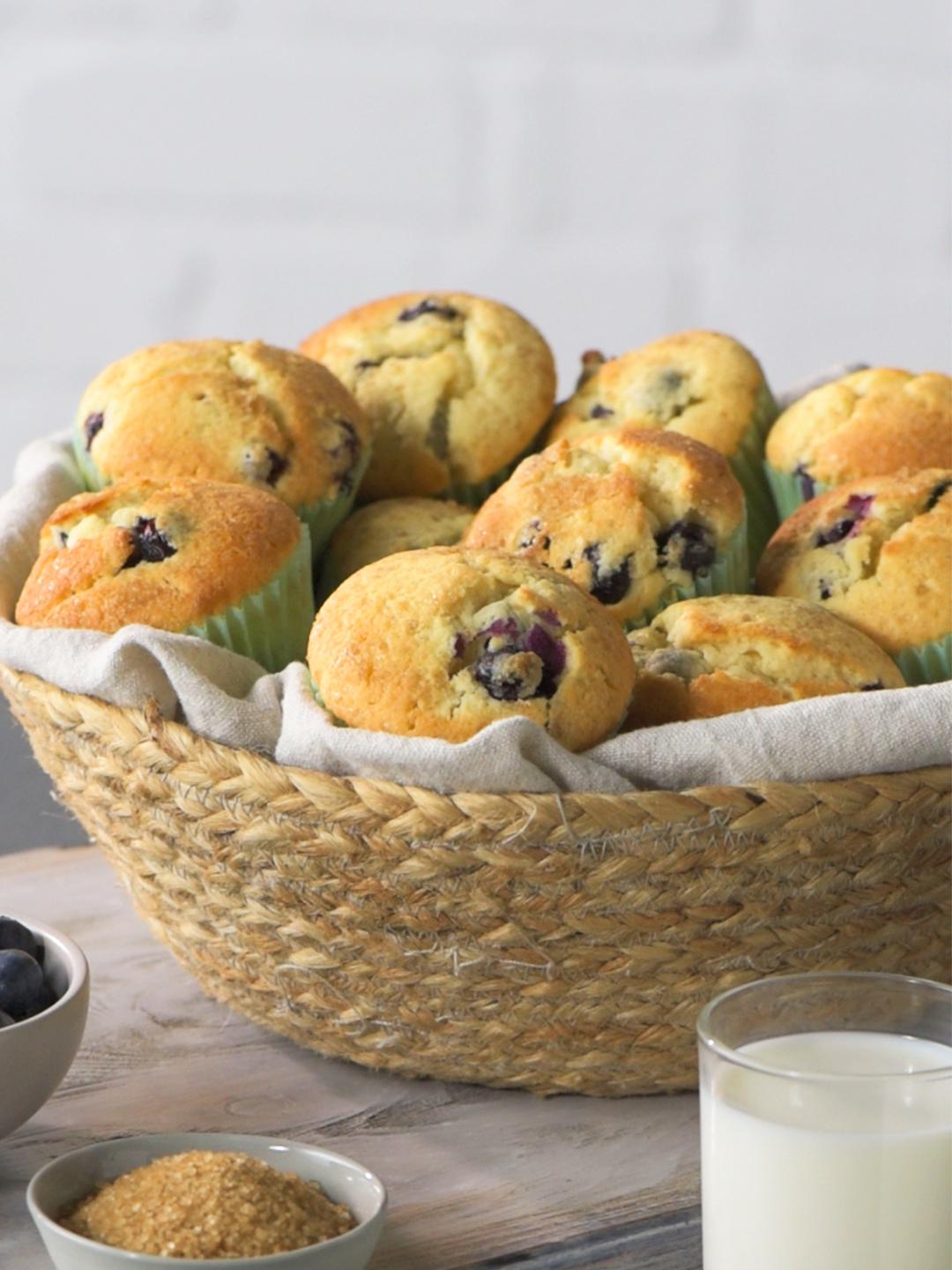 Classic Blueberry Muffins
Moist and light with a sugary crusted top, these muffins are bursting with blueberry goodness. The acidity from the buttermilk breaks down the gluten strands in the flour producing a beautifully tender crumb.
Ingredients
---
1¾ cups (9 oz) all-purpose flour

½ cup (4 fl oz) buttermilk

at room temperature

4 oz unsalted butter

chopped, at room temperature

2 large eggs

at room temperature

1 tbsp turbinado raw sugar
Instructions
1

Sift the flour and baking powder together and set aside.

2

Whisk the buttermilk and oil together and set aside.

3

Beat the butter on high speed for 2 minutes, or until softened. Add the sugar, salt and vanilla and beat for 3 minutes, or until pale and creamy, scraping down the bowl.

4

Reduce the speed to medium and add the eggs one at a time, beating well between each addition.

5

Reduce the speed to low and add a third of the flour, followed by half the buttermilk mixture. Repeat until incorporated.

6

Gently fold to combine.

7

Insert the wire rack into position 6. Meanwhile, continue to the next step.

8

Line a standard 12-cup muffin pan with paper liners. Divide the batter evenly among the liners. Sprinkle with the sugar to create a crispy top.

9

Once preheated, place the pan in the oven and start the timer.

10

The muffins are ready when a skewer inserted into the center comes out clean. If not, give it a bit more.

Tip: Don't insert the skewer into any of the cracks as this will give an inaccurate reading.

11

Stand the muffins in the pan for 10 minutes, then transfer to a wire rack to cool.

12

Best eaten the day they are made but will keep in an airtight container for up to 3 days at room temperature or frozen for up to 3 months.