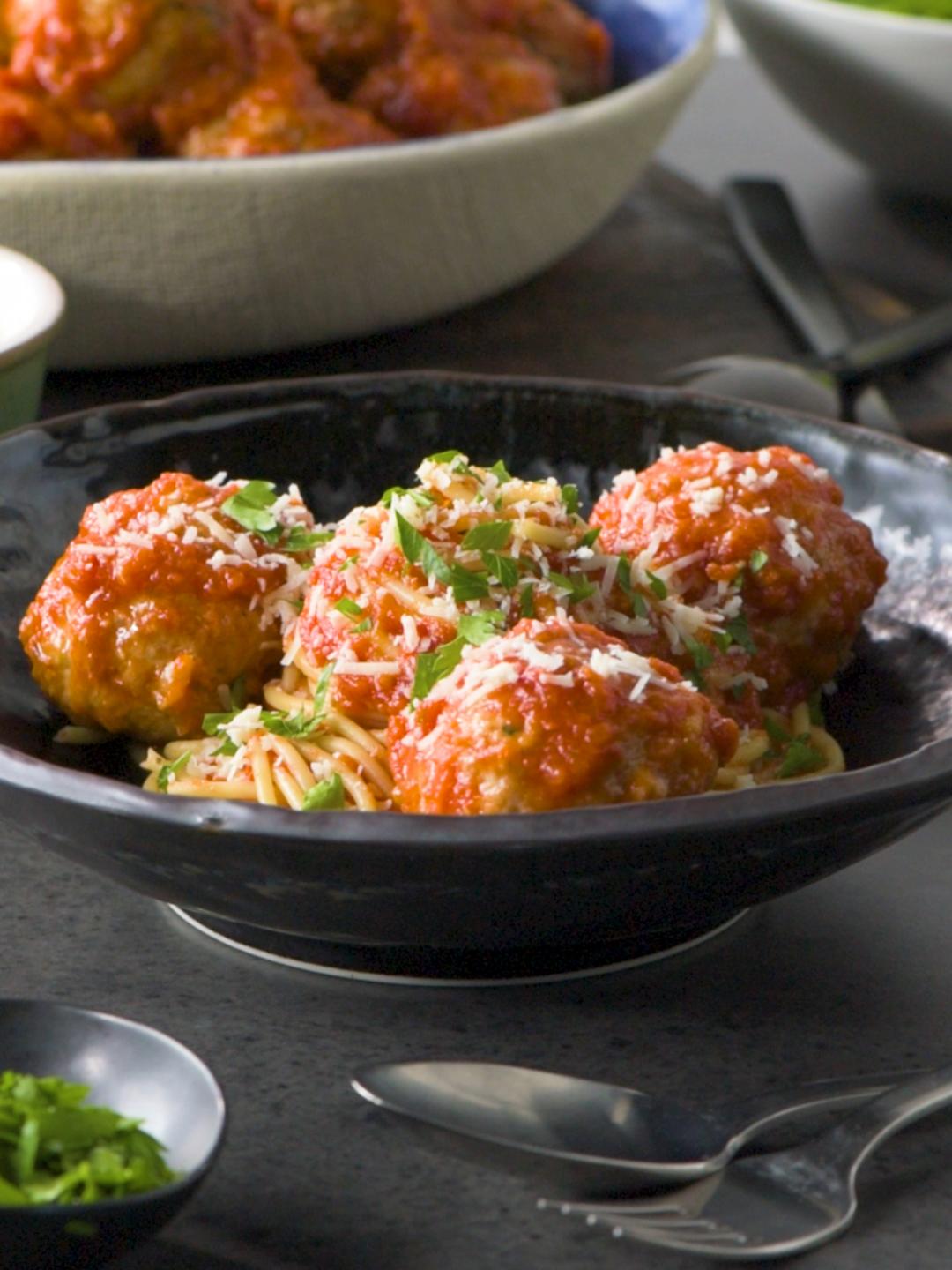 Classic Spaghetti and Meatballs
This recipe uses a combination of ground beef, pork and veal to produce incredibly moist and tender meatballs. Baked in an Italian marinara sauce, it's an easy weeknight winner.
Ingredients
---
For the marinara sauce:
2 x 28 oz cans crushed tomatoes
For the meatballs:
4 slices (5½ oz) white bread

torn into pieces

2 lb ground beef, pork and veal or meatloaf mix

2 cups (5½ oz) finely grated parmesan cheese

½ cup flat-leaf parsley leaves

coarsely chopped
To serve:
Chopped flat-leaf parsley
Instructions
1

Heat a pot over medium heat and add the oil. Once heated add the garlic and cook, stirring for 2 minutes, or until golden. Add the tomatoes and stir to combine.

2

Add the salt, sugar and oregano. Bring to a boil. Reduce the heat and simmer, stirring occasionally for 15 minutes, or until thickened. Meanwhile, continue to the next step.

3

Place the bread in a large bowl, pour over the milk and use a whisk to break it up. Add the eggs and whisk to combine.

4

Add the remaining meatball ingredients listed below. Use your hands to knead until well combined.

5

Insert the wire rack into position 6. Meanwhile, continue to the next step.

6

Pour the marinara sauce into a 13-inch x 9-inch x 2-inch deep baking dish.

7

Roll the beef mixture into balls approximately 1/3 cup (3 oz) measures and place in the marinara sauce.

8

Once preheated, place the dish in the oven and start the timer. Meanwhile, cook the spaghetti.

9

Bring a large pot of water to a boil over high heat and season well with salt. Add the pasta and cook according to the package instructions. Drain.

Tip: Add a little oil to the cooked pasta to prevent it from sticking.

10

The internal temperature of the meatballs should reach 170°F when tested with a meat thermometer. If not, give it a bit more.

11

Turn the meatballs in the sauce to coat, then carefully remove and set aside.

12

Add the spaghetti to the sauce and stir to coat.

13

Top the spaghetti with the meatballs and serve sprinkled with parmesan and parsley.