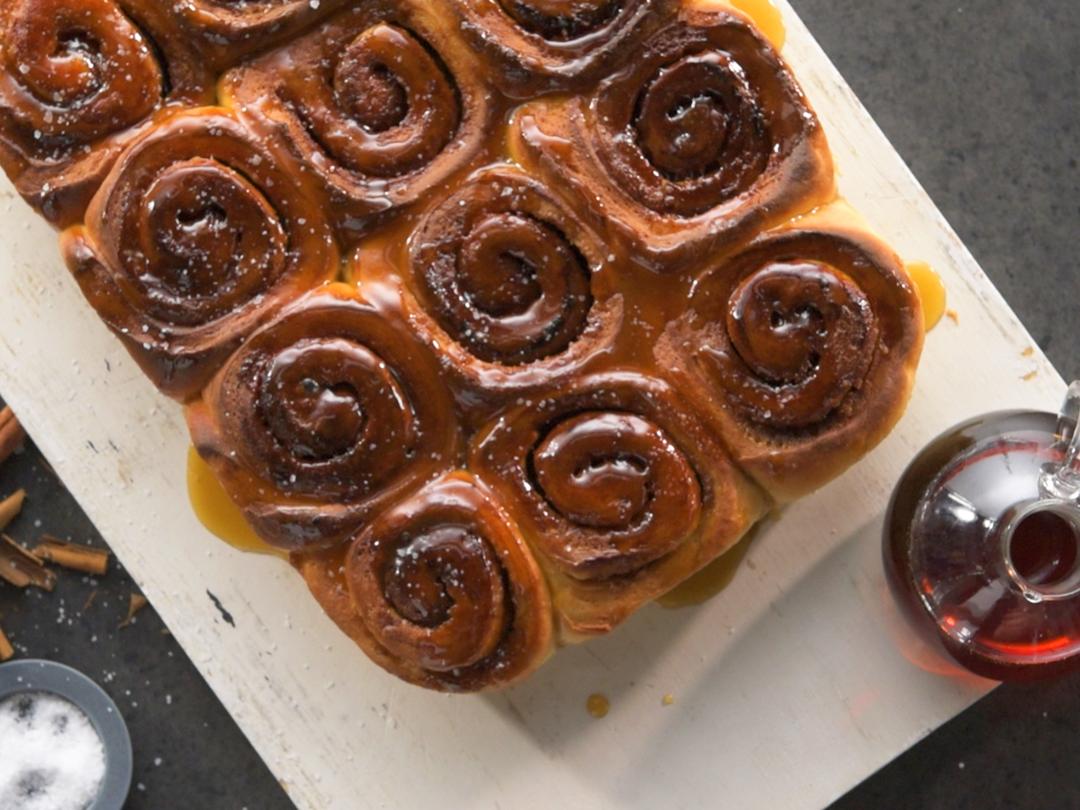 Ingredients
---
Dough:
2 tsp instant dried yeast

4 oz cold unsalted butter

cut into ½-inch pieces
Syrup:
5 oz unsalted butter

coarsely chopped
Instructions
1

For the dough: Combine the milk and yeast in a bowl. Add the maple syrup and eggs and whisk to combine. Place the flour and salt in the bowl of a bench mixer. Using the dough hook, mix on low speed to combine. Add the milk mixture and knead on medium speed for 7 minutes or until the dough is smooth and elastic.

2

Add the butter and continue kneading until all the butter is worked into the dough.

3

Transfer the dough to a large heatproof bowl and cover with plastic wrap. Place the bowl in the oven in rack position 6.

4

Select PROOF/88°F/CONVECTION/40 MINUTES and press START. Proof the dough for 40 minutes or until doubled in size.

5

For the filling; While the dough is proofing, heat the butter in a small saucepan over high heat until it foams and turns brown. Add the sugar and cinnamon, immediately remove the pan from the heat and mix together.

6

For the syrup; Heat the maple syrup, butter and sugar in a small saucepan over medium heat until the butter is melted. Remove the pan from the heat and whisk together.

7

Pour the syrup over the base of a 13-inch x 9-inch, 2-inch-deep baking dish.

8

To assemble; Turn the dough out onto a lightly floured surface and roll into a 24-inch x 10-inch rectangle. Transfer the dough onto a clean dish towel.

9

Spread the filling evenly over the dough leaving the bottom long edge clear.

10

Starting from the top long edge, use the dish towel as a guide to tightly roll up the dough.

11

Cut the roll into 12 even pieces and place in the dish, cover with plastic wrap. Place the dish in the oven in rack position 6.

12

Reset the oven to PROOF/ 88°F/CONVECTION/ 40 MINUTES and press START.

13

Remove the rolls from the oven.

14

Set the oven to BAKE/400°F/ SUPER CONVECTION/ 14 MINUTES and press START to preheat.

15

Once preheated, place the rolls in the oven and bake for 14 minutes until golden brown.

16

Stand the rolls in the dish for 20 minutes before serving.