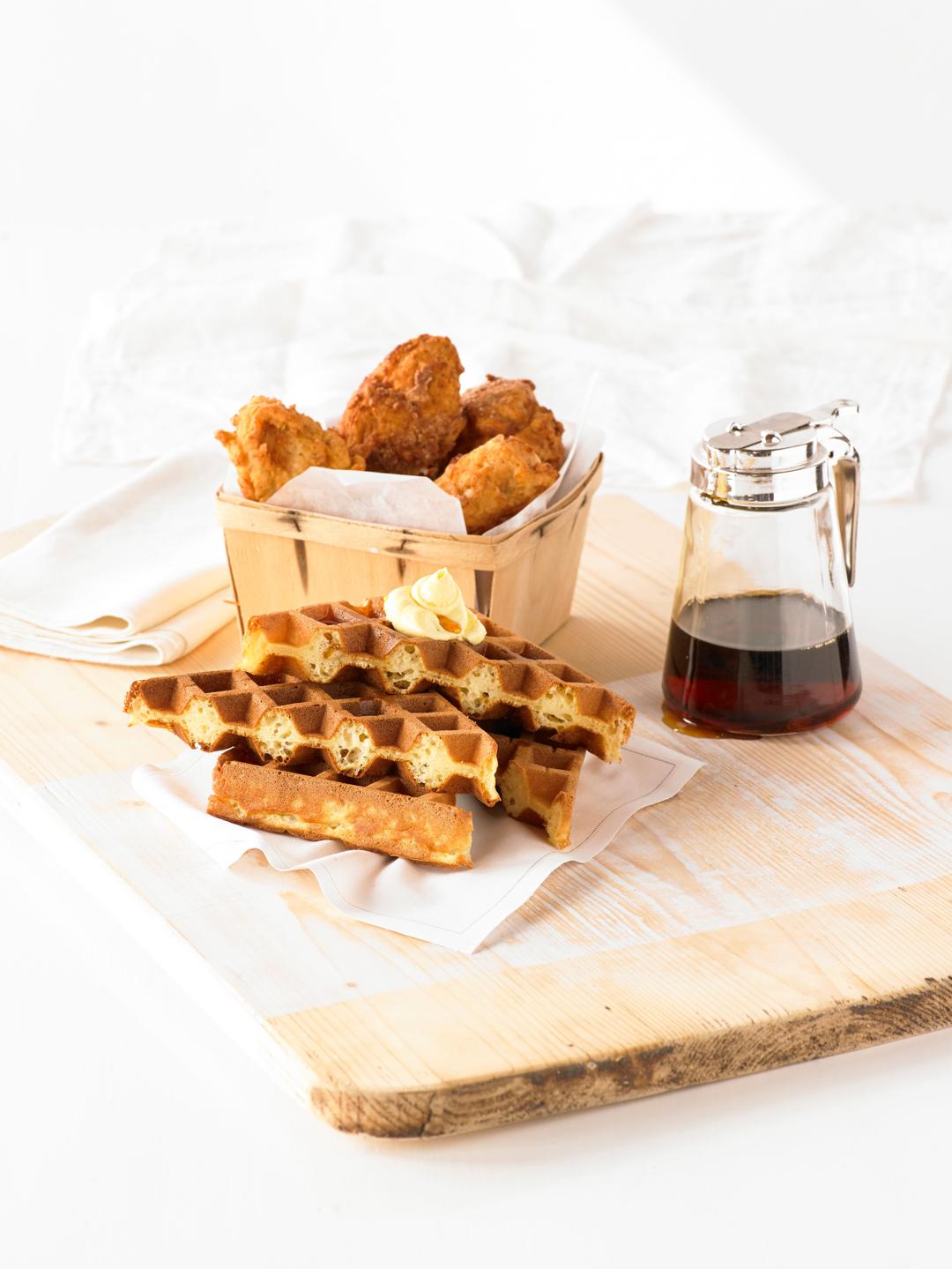 Fried Chicken with Buttermilk Waffles
Ingredients
---
2½ cups (20 fl oz) buttermilk

¾ cup (6 fl oz) vegetable oil

2½ cups (13 oz) self-rising flour

⅓ cup (2¾ oz) superfine sugar
For the fried chicken:
2½ cups (20 fl oz) buttermilk

12 pieces bone-in chicken

such as wings, drumsticks and thighs

2 cups (10½ oz) all-purpose flour

1 tbsp ground white pepper

Vegetable oil

for deep frying
Instructions
1

To make the fried chicken, put the eggs and buttermilk in a large bowl and whisk until well combined. Add the chicken pieces and toss to coat.

2

Combine the flour, salt, pepper, sugar, thyme and spices in a large baking dish.

3

Dip the chicken, one piece at a time, in the flour mixture and set aside until all the chicken has been coated. Repeat the process by dipping the chicken in the buttermilk mixture and flour mixture. Place on a baking tray. Refrigerate for 30 minutes.

4

Preheat oven to 300°F. Place a baking tray in the oven.

5

Heat the oil in a deep-fryer at 325°F or use a large deep saucepan over medium-high heat. Cook the chicken, in batches, for 10-15 minutes until golden and cooked through.

6

Place the cooked chicken, uncovered, on the tray in the oven to keep warm while preparing the waffles.

7

Select BUTTERMILK waffle setting and dial up number 5 on the LIGHT/DARK indicator dial.

8

Preheat until the orange light flashes and the word HEATING disappears.

9

Put the eggs, buttermilk and oil in a medium bowl and whisk until well combined.

10

Combine the flour, sugar and salt in a large bowl and make a well in the center.

11

Whisk the egg mixture into the flour mixture to form a smooth batter.

12

Pour ½ cup of the batter into each waffle square and close the lid to cook.

13

Repeat with the remaining batter.

14

Serve the waffles with the fried chicken, whipped butter and a drizzle of maple syrup.