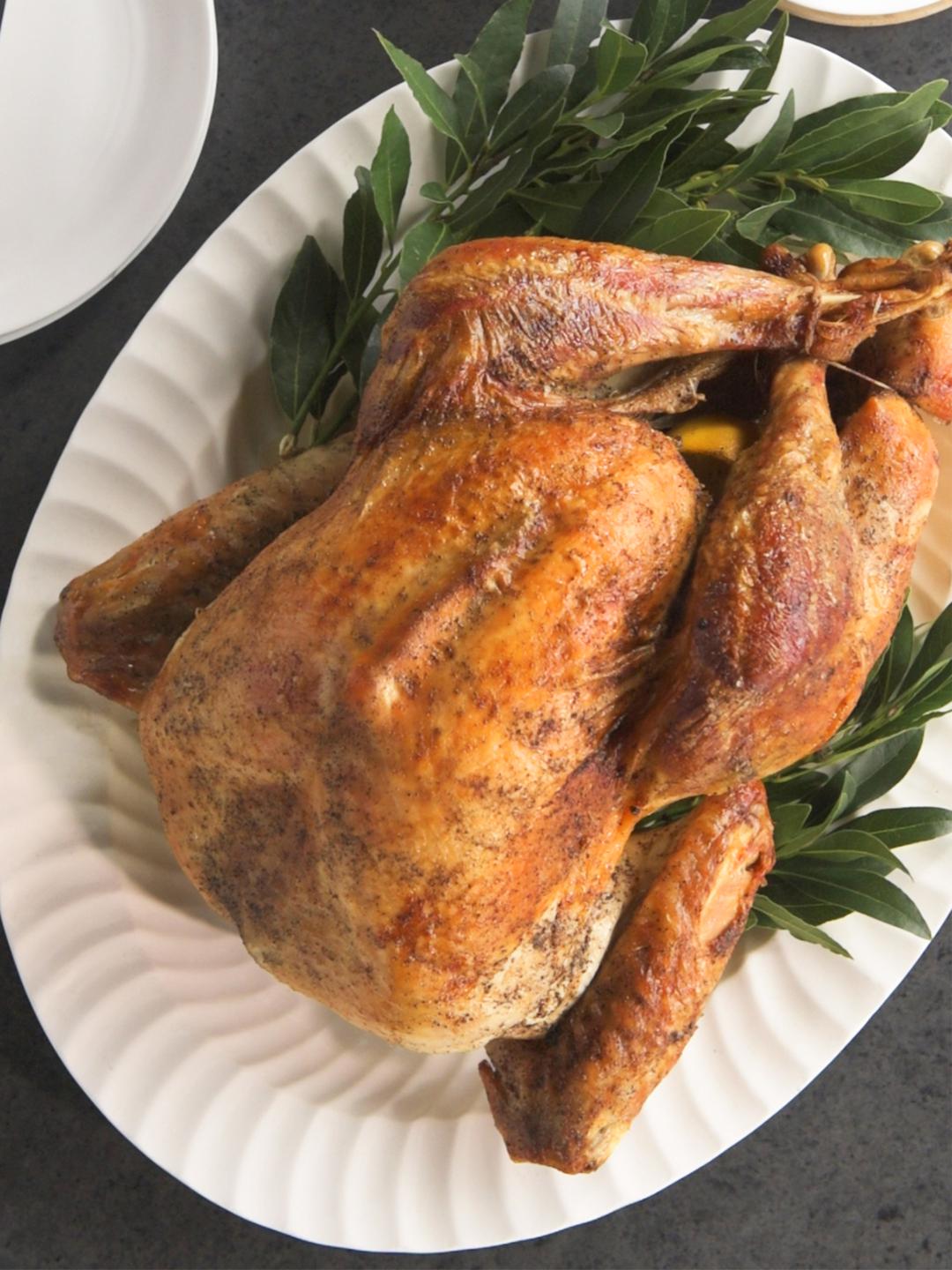 Ingredients
---
2 tsp ground black pepper

6 sprigs thyme (optional)

2 sprigs rosemary (optional)

¼ cup unsalted butter

melted
Instructions
1

Remove turkey from the refrigerator and allow it to come up to room temperature for one hour before roasting. Remove giblets, rinse turkey and use paper towels to thoroughly pat dry the inside and outside of the turkey.

2

Combine kosher salt and pepper in a small bowl. Liberally season the inside and outside of the turkey with the salt and pepper mixture. Stuff the cavity with the onion, garlic, lemon and desired herbs.

3

Tuck turkey wings under the back and tie the legs with kitchen twine. Brush the outside of the turkey with melted butter.

4

Insert wire rack in rack position 8. Select ROAST/325°F/CONVECTION/ 2 hours. Press START to preheat oven.

5

Line a jelly-roll or other shallow pan with foil and place the included broiling rack in the pan. Place turkey, breast side up, on broiling rack.

6

Once preheated, place the turkey in oven and roast until a thermometer inserted in the thickest part of the breast reads 150°F, and the thickest part of the thigh reads 165°F. Carefully rotate the pan halfway through cooking. The total cook time will vary depending on the size of the turkey.

7

Remove turkey from oven, very loosely tent with foil and allow to rest for 30 minutes before carving. Do not skip this step, as the temperature of the turkey will continue to rise during resting, ensuring it is fully cooked through.

Tip: Depending on the size and shape of the turkey, it may be necessary to crack the breastbone so that the turkey will fit in the oven. To do this, place the turkey on a stable surface and press firmly on the breastbone until it cracks. Repeat this several time, until the top of the turkey is slightly flattened.