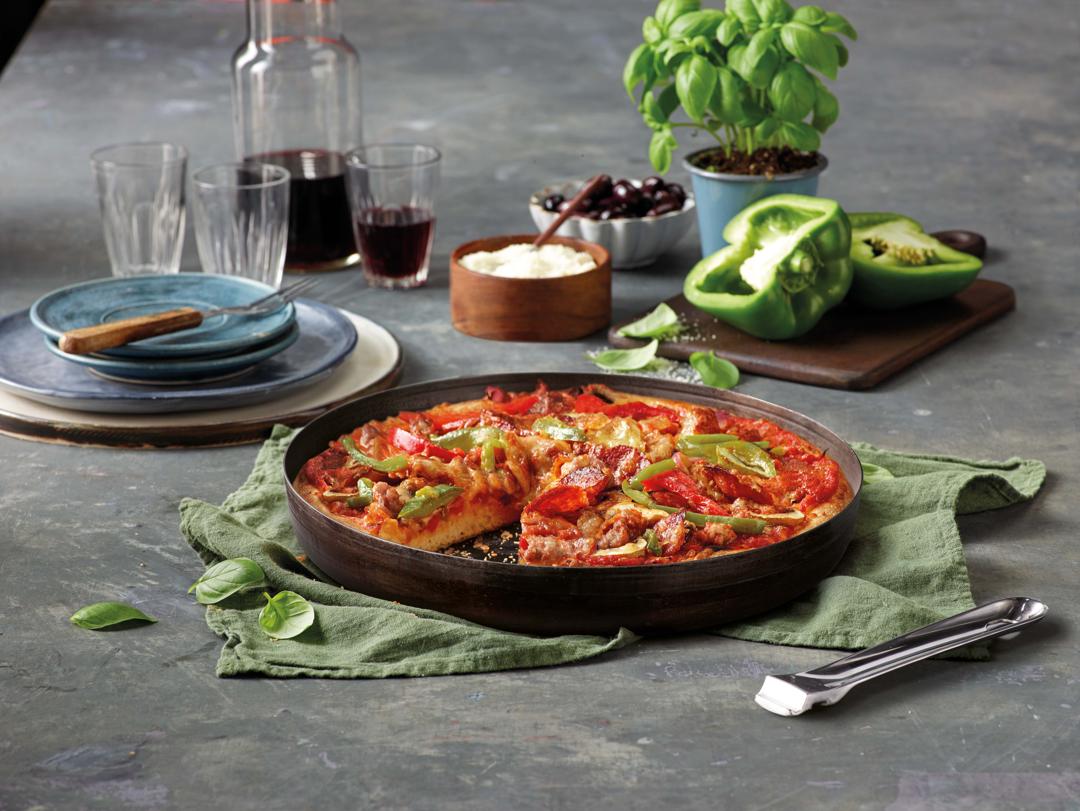 Pan Pizza
14 hrs 45 mins total time
Ingredients
---
1⅔ cups (8½ oz) bread flour

½ tsp instant dried yeast
For the pizza sauce:
28 oz can whole peeled tomatoes

1 tbsp extra-virgin olive oil

Pinch crushed red pepper flakes
For the topping:
1¾ cups (6 oz) shredded mozzarella cheese

1¾ cups thin pepperoni slices

¼ green bell pepper

thinly sliced

¼ red bell pepper

thinly sliced

1 small (mild or spicy) Italian sausage

casing removed, crumbled
Instructions
1

Combine the water and milk in a large bowl. Add the flour, salt and yeast. Mix well with a wooden spoon to combine.

2

Cover the bowl with plastic wrap and let the dough proof at room temperature for 12-22 hours.

3

Turn the dough onto a well-floured countertop and shape into a smooth ball.

4

Drizzle the oil over the base of the pizza pan. Place the dough in the pan, turn to coat in the oil, then press to flatten (it won't fill the pan at this point). Cover the pan with plastic wrap and let it proof at room temperature for 2 hours or until the dough has risen and spread almost to the edge of the pan.

5

Meanwhile, to make the pizza sauce, process the tomatoes in a food processor until smooth. Heat the oil in a small saucepan over low heat. Add the garlic and cook, stirring, for 30 seconds or until fragrant. Stir in the tomatoes, oregano, salt and pepper flakes and bring to a simmer. Simmer for 45 minutes, stirring occasionally, until the sauce is thick. Cool. Reserve ½ cup (4 fl oz) of the sauce for this recipe. (Transfer the remaining sauce to an airtight container. Store in the refrigerator for up to 1 week or freeze for up to 3 months.)

6

About 15 minutes before the dough has finished proofing, select the PAN setting and preheat the oven (preheat can take up to 14 minutes).

7

Using your fingertips, press the dough all the way to the edge of the pan, popping any large bubbles that appear and keeping the thickness as even as possible.

8

For the topping, spread the reserved pizza sauce over the dough, leaving a ½-inch border. Sprinkle with the mozzarella and top with the remaining ingredients.

9

Using the removable handle, transfer the pizza pan to the oven. Cook for 18 minutes or until the crust is crisp and golden.

10

Using the removable handle, remove the pizza pan from the oven and place it on a heatproof surface. Let the pizza cool in the pan for 5 minutes, then remove and slice to serve.