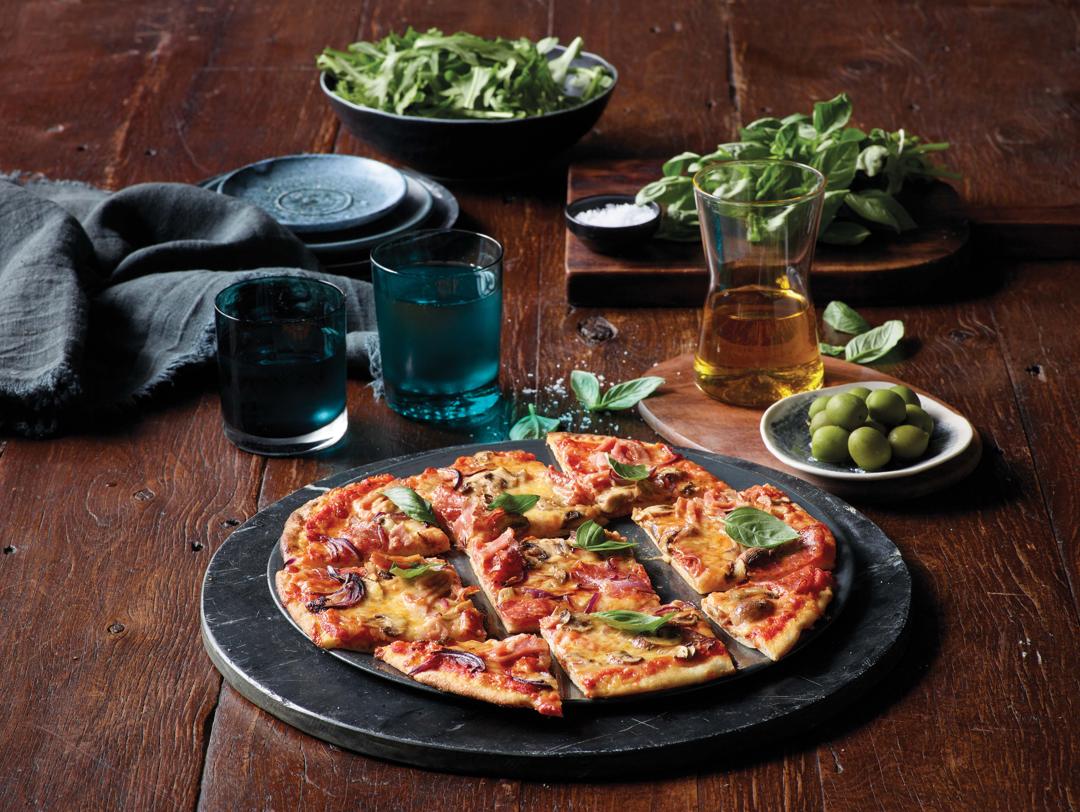 Ingredients
---
2 cups (10½ oz) bread flour

⅓ cup (2 oz) fine semolina

1 tsp instant dried yeast

1½ tbsp extra-virgin olive oil

plus extra for drizzling

Semolina mix

for sprinkling (see NOTE)
For the pizza sauce:
48 oz can whole peeled tomatoes

1 tbsp extra-virgin olive oil

Pinch crushed red pepper flakes
For the topping:
3¼ cups (11 oz) shredded mozzarella cheese

5½ oz button mushroom

thinly sliced

7 oz thin pepperoni slices

4 oz shaved ham

torn into large pieces
Instructions
1

Combine the flour, semolina, salt and yeast in the bowl of a stand mixer. Add the water and oil. Using the dough hook, knead on low speed for 10 minutes until the dough is smooth and elastic.

2

Cover the bowl with plastic wrap and let the dough proof in a warm place for 2 hours until doubled in size.

3

Meanwhile, to make pizza sauce, process the tomatoes in a food processor or blender until smooth. Heat the oil in a small saucepan over low heat. Add the garlic and cook, stirring, for 30 seconds or until fragrant. Stir in the tomatoes, oregano, salt and pepper flakes and bring to a simmer. Simmer for 45 minutes, stirring occasionally, until the sauce is thick. Cool. Reserve 1 1/3 cups) of the sauce for this recipe. Transfer the remaining sauce to an airtight container. Store in the refrigerator for up to 1 week or freeze for up to 3 months.

4

Once the dough has finished proofing, turn it onto a lightly floured countertop and divide evenly into four pieces. Shape each piece into a smooth ball and place 4-inch apart on a lightly oiled baking sheet. Drizzle a little extra oil over each ball and spread to coat the dough. Cover with plastic wrap and proof in a warm place for a further 30 minutes.

5

About 15 minutes before the dough is finished proofing, select the THIN & CRISPY setting and preheat the oven (preheat can take up to 14 minutes).

6

Sprinkle a clean countertop with a small amount of semolina mix. Using a rolling pin, roll out one portion of the dough into a 9 ¾-inch round. NOTE: To make the semolina mix, combine equal quantities of semolina and all-purpose flour. Store in an airtight container in the pantry.

7

Carefully transfer the dough onto the pizza peel, gently shaking off any excess semolina mix.

8

For the topping, spread one-quarter of the reserved pizza sauce over the pizza base. Sprinkle with one-quarter of mozzarella, mushrooms, pepperoni, ham and onion.

9

Transfer the pizza to the oven and cook for 7 minutes or until the crust is crisp and golden.

10

Slide the pizza peel under the pizza, remove it from the oven and transfer to a cutting board. Sprinkle with basil leaves, slice and serve. Repeat with the remaining dough, reserved pizza sauce and toppings.