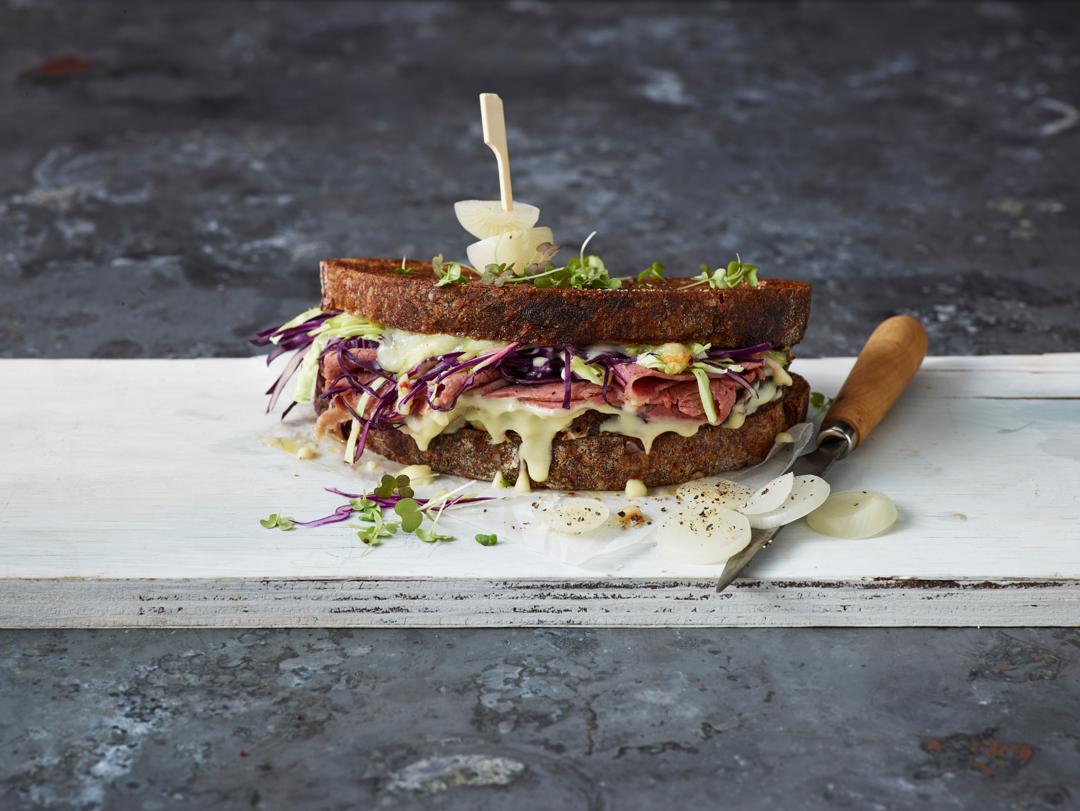 Ingredients
---
1 cup finely shredded red cabbage

⅓ cup (2¾ oz) apple cider vinegar

Freshly ground black pepper

to season

1 cup finely shredded green cabbage

2 oz salted butter

at room temperature

8¾ oz aged cheddar cheese

sliced

10½ oz thinly sliced corned beef

Pickled onions and micro herbs

to serve
Instructions
1

Put the red cabbage in a small glass or ceramic bowl. Drizzle with half the vinegar and season with salt and pepper. Toss well. Repeat with the green cabbage and remaining vinegar in a separate bowl. Let both marinate for 15 minutes. Drain.

2

Preheat the sandwich press until the READY light illuminates.

3

Butter the bread slices and place 6 slices buttered side down.

4

Spread 6 slices with the horseradish sauce. Top with half the cheese slices.

5

Top with the corned beef and drained red and green cabbage. Top with the remaining cheese and sandwich with the remaining bread slices, buttered-side facing up.

6

Place two of the sandwiches onto the sandwich press and lower the lid. Cook for 5 minutes until the bread is toasted and the filling is heated through.

7

Remove the sandwiches using a silicone spatula. Cover to keep warm. Repeat with remaining sandwiches.

8

Cut in half and serve with the pickled onions and herbs.