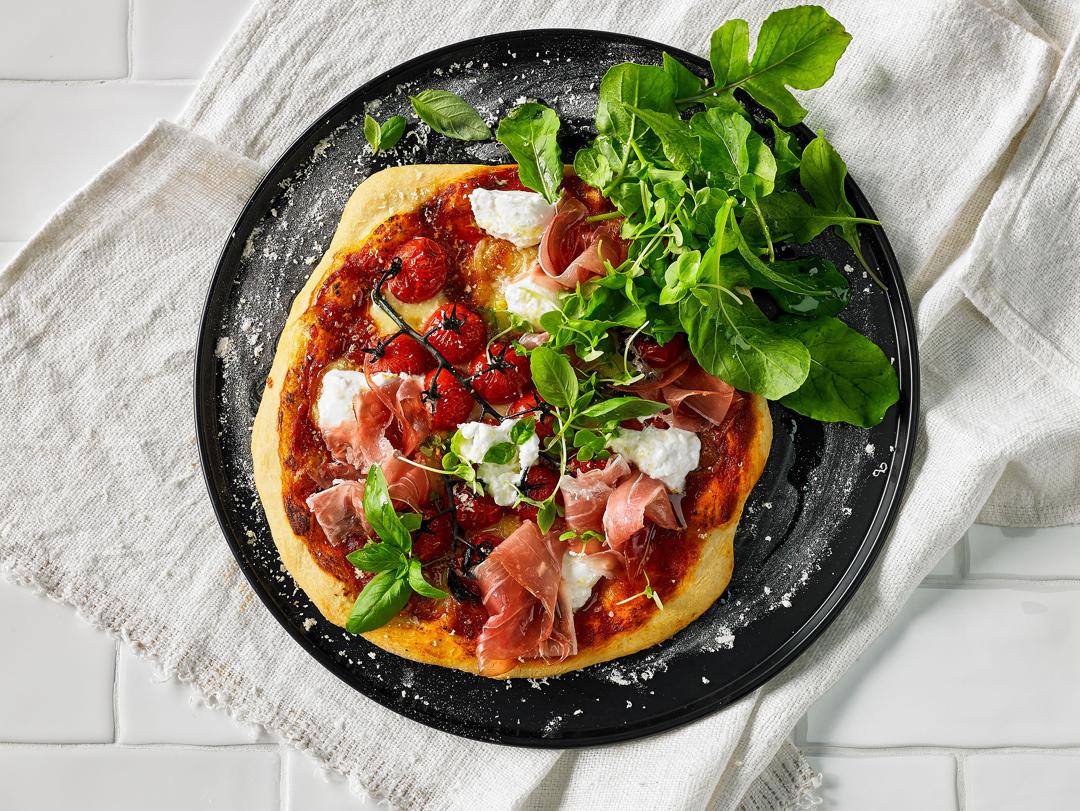 Prosciutto and Goat Cheese Pizza
Makes 1classic crust pizza
Ingredients
---
For the dough:
1⅓ cups (7 oz) bread flour

1 tsp instant dried yeast
For the pizza sauce:
14½ oz can whole tomatoes

2 tsp extra-virgin olive oil

½ tsp coarsely ground black pepper
For the topping:
½ cup (2 oz) shredded mozzarella cheese

4 oz cherry tomatoes on the vine

Freshly ground black pepper

to season

4 oz buffalo mozzarella

torn into large pieces

2½ oz goat cheese

broken into large pieces

4 slices (2 oz) prosciutto
Instructions
1

To make the dough, put the flour, yeast, sugar and salt in the bowl of a stand mixer with the dough hook. Mix to combine. Add the warm water and oil to the dry ingredients. Mix on medium speed for 5 minutes until the dough is smooth and elastic. (Alternatively, combine the dry ingredients in a bowl. Add the warm water and oil to the dry ingredients. Mix until the dough comes together. Turn the dough out onto a lightly floured surface and knead for 10 minutes until smooth and elastic).

2

Put the dough in a lightly oiled bowl, cover with plastic wrap and set aside in a warm place for 45 minutes or until the dough doubles in size.

3

Meanwhile, make the pizza sauce, put all the ingredients in a food processor or blender and process or blend until well combined. Pour into an airtight container and store in the refrigerator for up to 4 days or freeze for up to 3 months.

4

Sprinkle the semolina onto a clean counter. Turn the dough onto the semolina and punch down to remove the excess air. Knead until smooth.

5

Stretch the dough out until it is large enough to cover the pizza pan.

6

Insert the wire rack into the bottom shelf position. Preheat the oven. Select PIZZA/CONVECTION/425°F/17 minutes and press start.

7

Spread ½ cup (4 fl oz) of the pizza sauce evenly over the dough, leaving a ½-inch border. Top with the shredded mozzarella and tomatoes, season with salt and pepper.

8

Once preheated, put the pizza in the oven and cook for 12 minutes. Remove the pizza from the oven, top with buffalo mozzarella and goat cheese. Cook for a further 5 minutes until the mozzarella is soft and the dough is browned.

9

Remove the pizza from the oven. Top with prosciutto.

10

Drizzle with olive oil, garnish with basil leaves and micro herbs. Slice and serve with arugula.