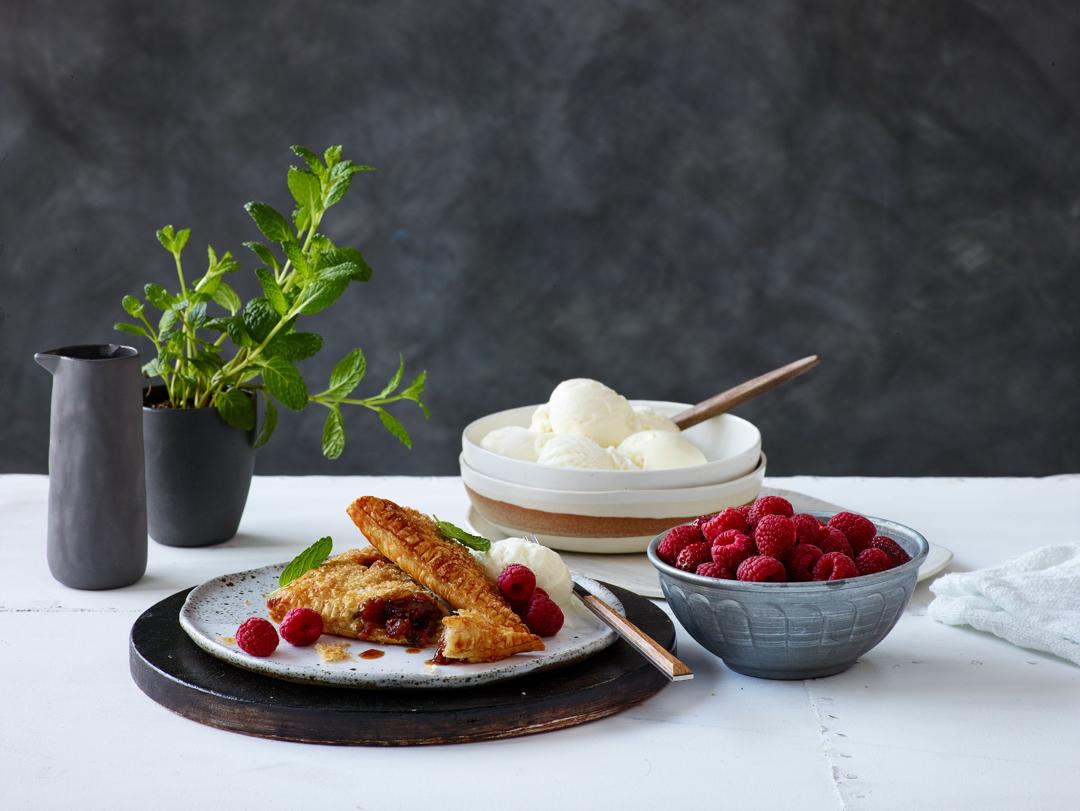 Ingredients
---
4 (21 oz) medium granny smith apples

peeled

⅓ cup (2¼ oz) light brown sugar

1 tsp pure vanilla extract

2 sheets frozen puff pastry

thawed

1 large egg

lightly whisked
Instructions
1

Cut the apples into ½-inch pieces.

2

Combine the apples, butter, brown sugar, salt, vanilla, lemon juice and cinnamon in a medium saucepan over medium heat. Cook, stirring occasionally, for 10 minutes until the apples are tender, but still hold their shape.

3

Transfer the apple mixture to a bowl. Refrigerate for 20 minutes until cool.

4

Line a baking sheet with parchment paper.

5

Place 1 sheet of pastry on a cutting board and cut into 4 equal squares.

6

Lightly brush the edges of each square with egg. Place a heaped tablespoon of the apple mixture into the center of each square.

7

Fold each square in half diagonally to enclose the filling and form a triangle. Press down to remove any air bubbles. Using a fork, press the edges to seal the pastry. Place the turnovers on the prepared baking sheet.

8

Repeat with the remaining pastry and filling. Refrigerate for 30 minutes until the pastry is firm.

9

Preheat the oven. Select AIRFRY/SUPER CONVECTION/350°F/20 minutes and press start.

10

Lightly spray the bottoms of the turnovers with oil and place in the AIR FRY basket, ensuring they are not touching each other.

11

Brush the tops with egg and sprinkle with raw sugar. Score the tops with 3 small slits, making sure you don't slice through to the bottom.

12

Once preheated, place the basket in the AIR FRY position and cook for 20 minutes, until golden brown and puffed.

13

Serve warm or at room temperature with ice cream, raspberries and mint leaves.