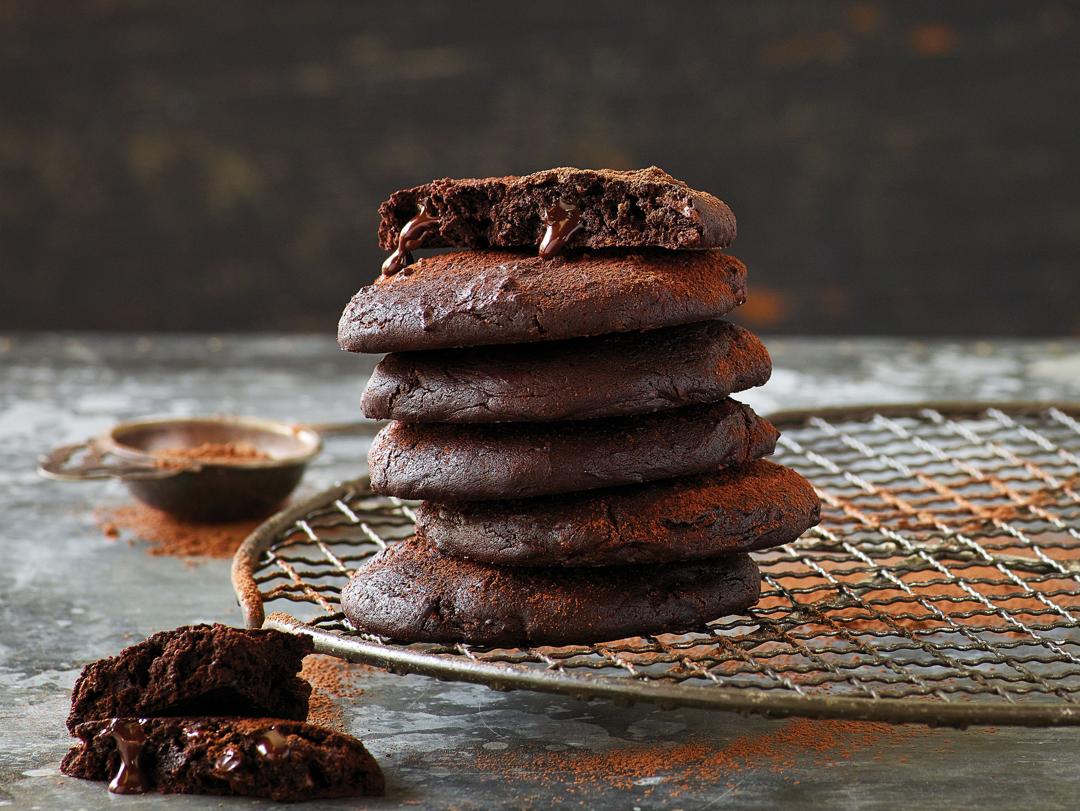 Ingredients
---
3½ oz unsalted butter

chopped, at room temperature

7 oz dark chocolate

broken into pieces

¾ cup (3½ oz) all-purpose flour

sifted

½ tsp flaky sea salt

crushed

¾ cup (5¼ oz) light brown sugar

⅓ cup (1 oz) cocoa powder

plus extra to serve

1 large egg

lightly beaten
Instructions
1

Melt the butter and 3 oz of the chocolate in a small saucepan over low heat, stirring constantly with a metal spoon until smooth. Remove from the heat and set aside to cool slightly.

2

Put the flour, salt, brown sugar and cocoa powder in the bowl of a stand mixer with the paddle attachment. Mix on low speed until combined. Add the warm chocolate mixture and the egg. Mix on low speed until combined.

3

Chop the remaining 4 oz chocolate and stir into the dough.

4

Insert the wire rack into the middle shelf position. Preheat the oven. Select BAKE/350°F/CONVECTION/13 minutes and press start.

5

Line the pizza pan with parchment paper. Roll heaped tablespoons of dough into balls. Place 6-7 balls evenly spaced on the pan, not too close to the edge, allowing room for spreading. Flatten slightly.

6

Once preheated, put the cookies in the oven and bake for 13 minutes until the cookies are cracked a little on the surface. Remove from the oven and cool on the pan for 5 minutes. Then transfer to a wire rack to cool completely.

7

Repeat with the remaining dough.

8

Dust with a little cocoa powder to serve.

9

Store the cooled cookies in an airtight container for 4-5 days.