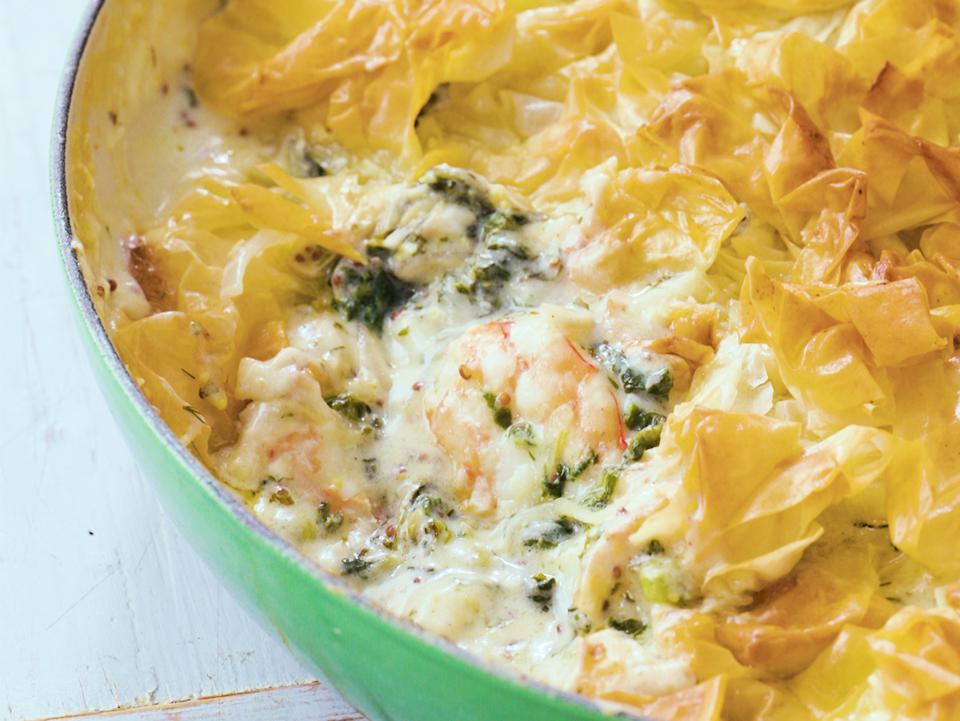 Seafood Chowder Pie
Shrimp, cod and salmon jostle around in a light velvety sauce, with a subtle zing of lemon and mustard. Finished off with layers of crisp, golden filo, this comforting dish can be served with baby potatoes and a fresh salad or steamed greens.
Ingredients
---
15 oz frozen chopped spinach

thawed and drained

⅓ cup (1¾ oz) all-purpose flour

⅓ cup (1½ oz) shredded cheddar cheese

¼ cup (2½ oz) whole grain mustard

1 tbsp finely grated lemon zest

¼ cup (2 fl oz) fresh lemon juice

Freshly ground black pepper

to season

1⅓ cups (7 oz) frozen peas

7 oz shelled and deveined shrimp

5 oz skinless salmon fillets

diced

2 tsp finely chopped dill

2 tsp finely chopped flat-leaf parsley

4 oz unsalted butter

melted
Instructions
1

Place a 12-inch round (3½ quart) ovenproof pan over high heat. Add the oil and shallots and cook, stirring for 3 minutes, or until soft. Add the garlic and cook, stirring until fragrant. Add the spinach and stir. Transfer to a heatproof bowl and set aside. Clean the pan.

2

Melt the butter in the pan over medium heat. Add the flour and whisk constantly for 2 minutes, or until it bubbles and forms a paste. Gradually add the milk, whisking constantly to prevent lumps. Reduce the heat to medium-low and cook, whisking occasionally until the sauce boils and thickens.

3

Add the cheese, mustard, lemon zest and juice and whisk until smooth. Add the salt and pepper and whisk.

4

Add the peas, seafood and herbs to the sauce and mix well. Stir in the spinach mixture and remove from the heat.

5

Insert the wire rack into position 6. Select AIR FRY/SUPER CONVECTION/350°F/35 minutes and enable Rotate Remind. Press START to preheat.

6

Cut the pastry into 2-inch strips.

7

Place the melted butter in a large bowl. Dip the pastry strips in the butter. Gently scrunch the strips and place on the pie to cover the surface.

8

Once preheated, place the pie in the oven. When the Rotate Remind signals, rotate the pan and continue cooking until the pastry is golden and crisp.

9

Remove the pie from the oven and stand for 5 minutes before serving.