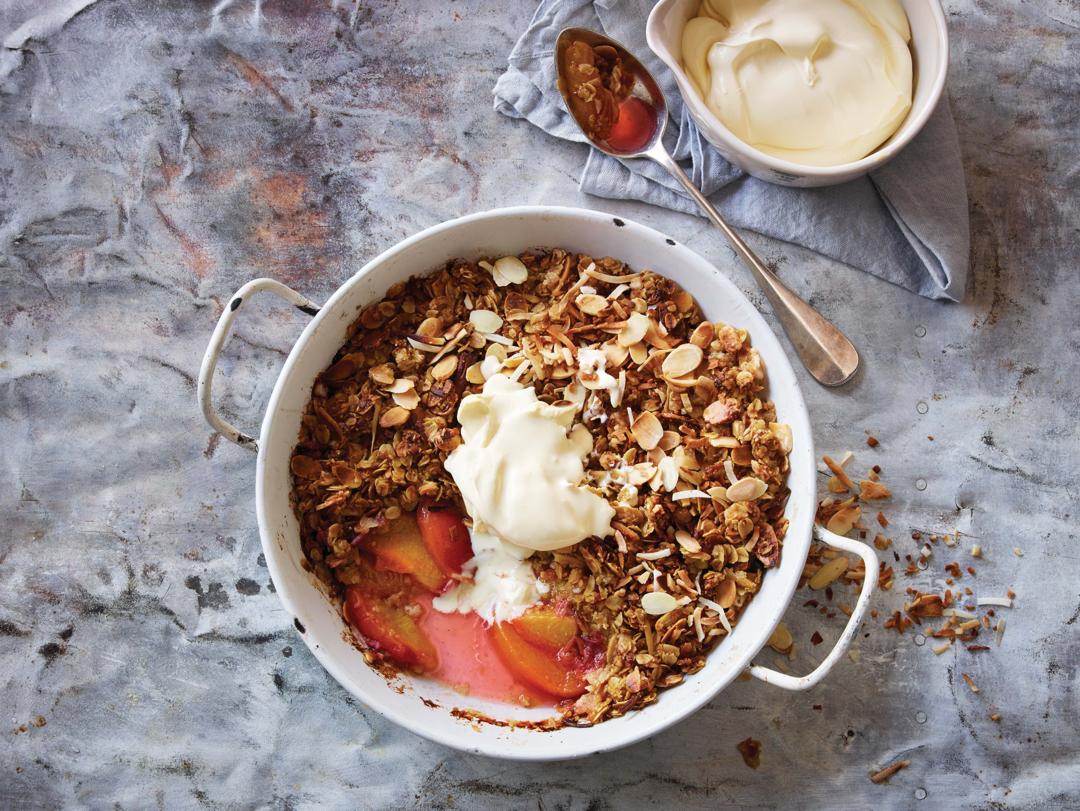 Peach and Cinnamon Crumble
Ingredients
---
For the poached peaches:
6 medium fresh free-stone peaches
For the topping:
⅔ cup (3½ oz) all-purpose flour

3½ oz unsalted butter

chilled, cut into cubes

⅓ cup (2¼ oz) light brown sugar

½ cup (1½ oz) old fashioned rolled oats

½ cup (1½ oz) sliced almonds

¼ cup (¾ oz) shredded coconut
To serve:
Crème fraîche or vanilla ice cream
Instructions
1

To make the poached peaches, put the sugar, water and vanilla in a medium saucepan. Stir over medium heat until the sugar dissolves. Bring to a boil then reduce to a simmer.

2

Cut a small cross in the bottom of each peach. Add the peaches to the simmering liquid. Press a sheet of parchment paper onto the surface of the peaches. Simmer without a lid for 8-10 minutes until the peaches are just tender when tested with a skewer.

3

Use a slotted spoon to transfer the peaches to a tray. Set the poaching liquid aside to cool.

4

To make the spice mixture, combine all the ingredients in a small bowl.

5

To make the topping, put the flour in a bowl. Add the butter. Use your fingertips to rub the butter into the flour until it resembles coarse crumbs. Stir in the brown sugar, oats, almonds and coconut and use your fingers to form clumps of crumble.

6

Insert the wire rack into the middle shelf position. Preheat the oven. Select BAKE/350°F/CONVECTION/20 minutes and press start.

7

Remove the skins from the peaches. Cut the peaches in half, remove the pits, then cut each half into 4 wedges. Put the peaches in a 6 cup (1 ½ qt) baking dish. Sprinkle over the spice mixture and stir gently to coat the fruit. Pour over ¼ cup (2 fl oz) of the poaching liquid.

8

Sprinkle the crumble evenly over the peaches.

9

Once preheated, put the crumble in the oven and bake for 20 minutes until golden brown.

10

Allow the crumble to cool for 5-10 minutes before serving. Serve with crème fraiche or ice cream.

Tip: Before you start, check that the baking dish fits in the oven.