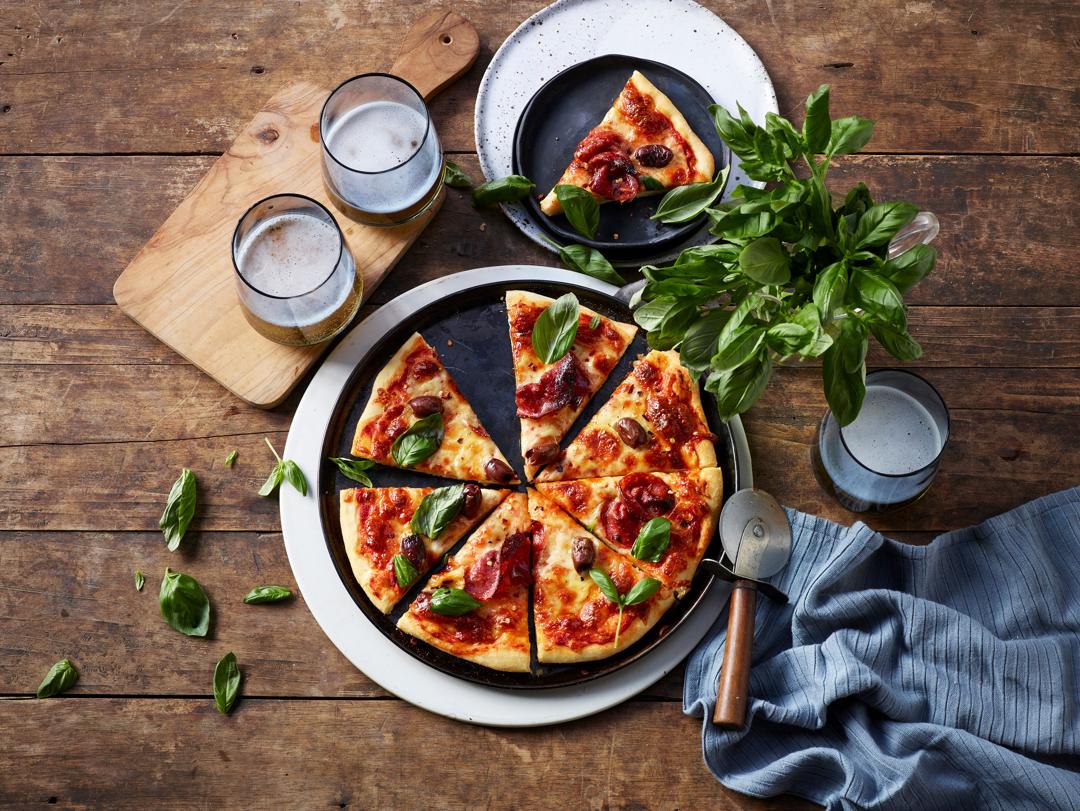 Salami, Mozzarella and Olive Pizza
Makes 1classic crust pizza
Ingredients
---
For the dough:
1⅓ cups (7 oz) bread flour

1 tsp instant dried yeast
For the pizza sauce:
14½ oz can whole tomatoes

2 tsp extra-virgin olive oil

½ tsp coarsely ground black pepper
For the topping:
1 cup (3½ oz) shredded mozzarella cheese

12 (2 oz) thin slices salami

12 (1 oz) pitted black olives

halved
To serve:
¼ cup (¼ oz) firmly packed basil leaves

Crushed red pepper flakes
Instructions
1

To make the dough, put the flour, yeast, sugar and salt in the bowl of a stand mixer with the dough hook. Mix to combine. Add the warm water and oil to the dry ingredients. Mix on medium speed for 5 minutes until the dough is smooth and elastic. (Alternatively, combine the dry ingredients in a bowl. Add the warm water and oil to the dry ingredients. Mix until the dough comes together. Turn the dough out onto a lightly floured surface and knead for 10 minutes until smooth and elastic.)

2

Put the dough in a lightly oiled bowl, cover with plastic wrap and set aside in a warm place for 45 minutes or until the dough doubles in size.

3

Meanwhile, make the pizza sauce, put all the ingredients in a food processor or blender and process or blend until well combined. Pour into an airtight container and store in the refrigerator for up to 4 days or freeze for up to 3 months.

4

Sprinkle the semolina onto a clean counter. Turn the dough onto the semolina and punch down to remove the excess air. Knead until smooth. Stretch the dough out until it is large enough to cover the pizza pan.

5

Insert the wire rack into the bottom shelf position. Preheat the oven. Select PIZZA/CONVECTION/FRESH/425°F/18 minutes and press start.

6

To make the topping, spread ½ cup (4 fl oz border. Top with three-quarters of the mozzarella then the salami, olives and remaining mozzarella.

7

Once preheated, put the pizza in the oven. Bake for 18 minutes until the topping is light golden and the dough is browned.

8

Remove the pizza from the oven. Garnish with basil leaves and red pepper flakes. Slice and serve.