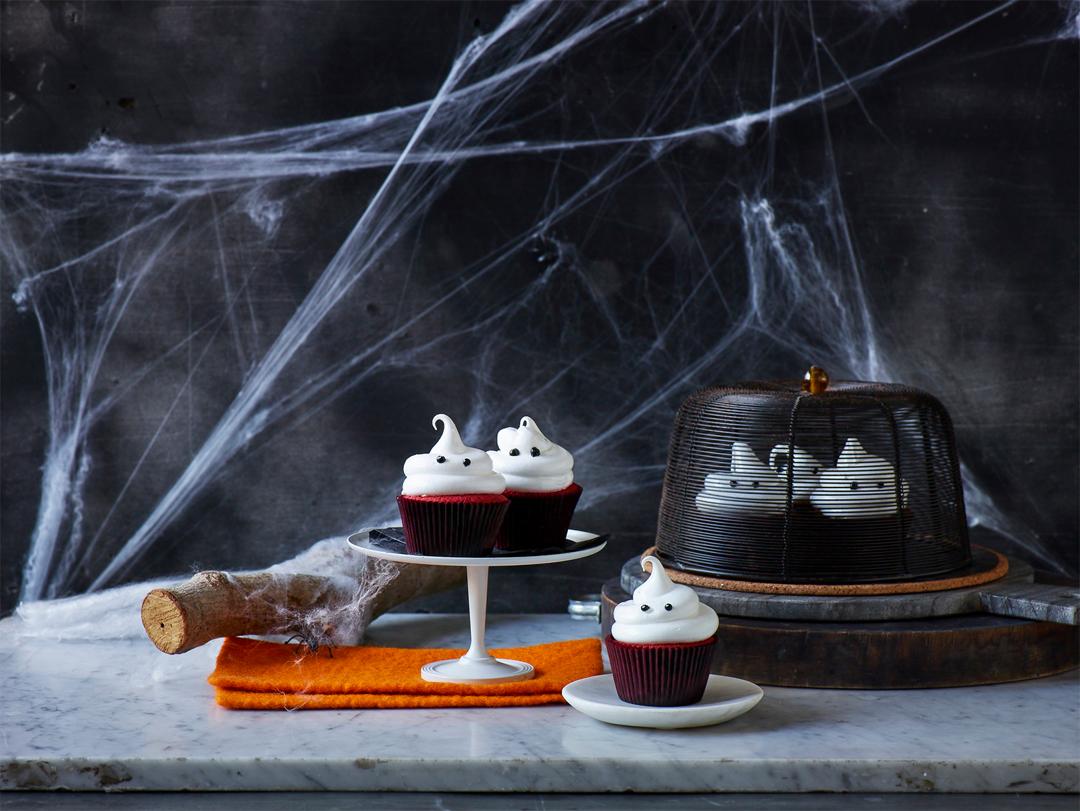 Red Velvet Cupcakes with Ghostly Marshmallow Frosting
Ingredients
---
1 tsp red gel food coloring

4 tbsp unsalted butter

softened

Tube of black decorating icing

to decorate
Instructions
1

Line a 12-cup muffin pan with cupcake liners and set aside.

2

Sift flour, cocoa powder, baking powder and baking soda into a bowl.

3

Combine buttermilk, vinegar, vanilla and red food gel in a small measuring cup or bowl. Whisk well to evenly distribute food coloring.

4

Using a Breville bench mixer or hand mixer, beat the butter, sugar and salt on medium speed until creamy and pale. Add egg and beat to just combine. Add half of the flour mixture and mix on low speed until just combined. Add the buttermilk mixture and mix on low speed, then add the remaining flour mixture and mix until just combined. Scoop batter evenly into the cupcake liners.

5

Insert wire rack into rack position 6. Select BAKE/325°F/CONVECTION/16 minutes. Press START to preheat oven.

6

Once preheated, place the muffin pan in the oven and bake cupcakes for 16 minutes or until a skewer inserted into the center comes out clean. Stand cupcakes in the pan for 10 minutes then transfer to a wire rack to cool completely.

7

Make the frosting while the cupcakes bake. Combine the sugar and water in a small saucepan and stir over medium heat, without boiling, until sugar is dissolved. Boil syrup, uncovered and without stirring, about 5 minutes or until syrup reaches 240°F on a candy thermometer. Syrup should have thickened slightly without coloring.

8

Remove pan from heat. Beat egg whites in a small bowl with an electric mixer until soft peaks form. While mixer is running, add hot syrup in a thin, steady stream. Beat on high speed for 3-5 minutes or until mixture is thick and glossy.

9

Fit a piping bag with a large round tip. Spoon the frosting into the bag and pipe onto the cupcakes. Use the black decorating icing to pipe eyes onto each cupcake.