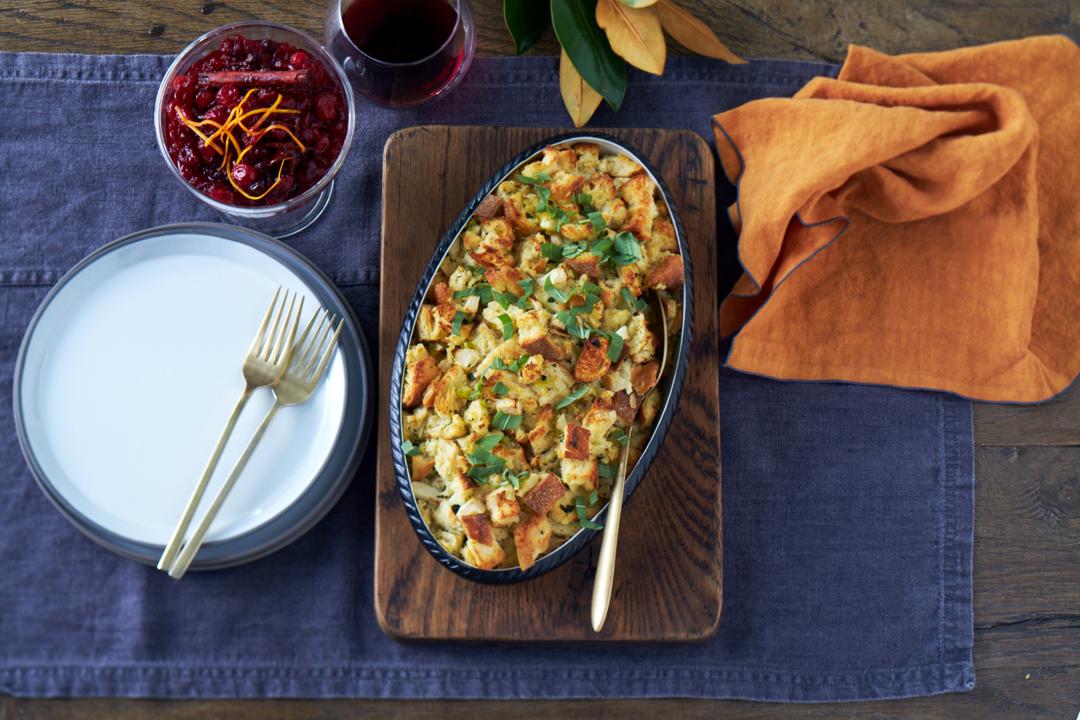 Ingredients
---
2 lb hearty white bread

cut into ½-inch cubes

3 medium granny smith apples

peeled, cored and diced

2 medium onions

finely chopped

3 stalks celery

finely chopped

2 tbsp minced fresh thyme

2 tbsp minced fresh parsley

1 (32 fl oz) low-sodium chicken broth or stock

1 tsp freshly ground black pepper
Instructions
1

Insert wire racks into rack positions 4 and 8. Select BAKE/200°F/SUPER CONVECTION/1 hour and press START to preheat oven.

2

Spread bread cubes evenly on two baking pans.

3

Once preheated, place pans in oven and bake, stirring the bread occasionally, until the edges of the cubes have dried out, about 1 hour. Let bread cool on pans and then transfer to a large bowl with the diced apples.

4

Heat butter in a large skillet over medium heat. Add onion, celery and herbs and cook, stirring frequently, until soft and golden brown, about 10 minutes. Transfer to bowl with bread and apples.

5

Whisk together chicken broth, eggs, salt and pepper in a medium bowl. Pour over bread mixture and toss gently to incorporate.

6

Grease the sides and bottom of a 9 x 13-inch baking dish. Transfer dressing to baking dish, lightly pressing down the top. Cover dish with foil.

7

Insert wire rack in rack position 6. Select BAKE/350°F/CONVECTION/30 minutes and press START to preheat oven.

8

Once preheated, place the dressing in oven and bake for 30 minutes. Remove foil and continue baking for an additional 10 minutes or until top is golden brown. Let rest 10 minutes before serving.