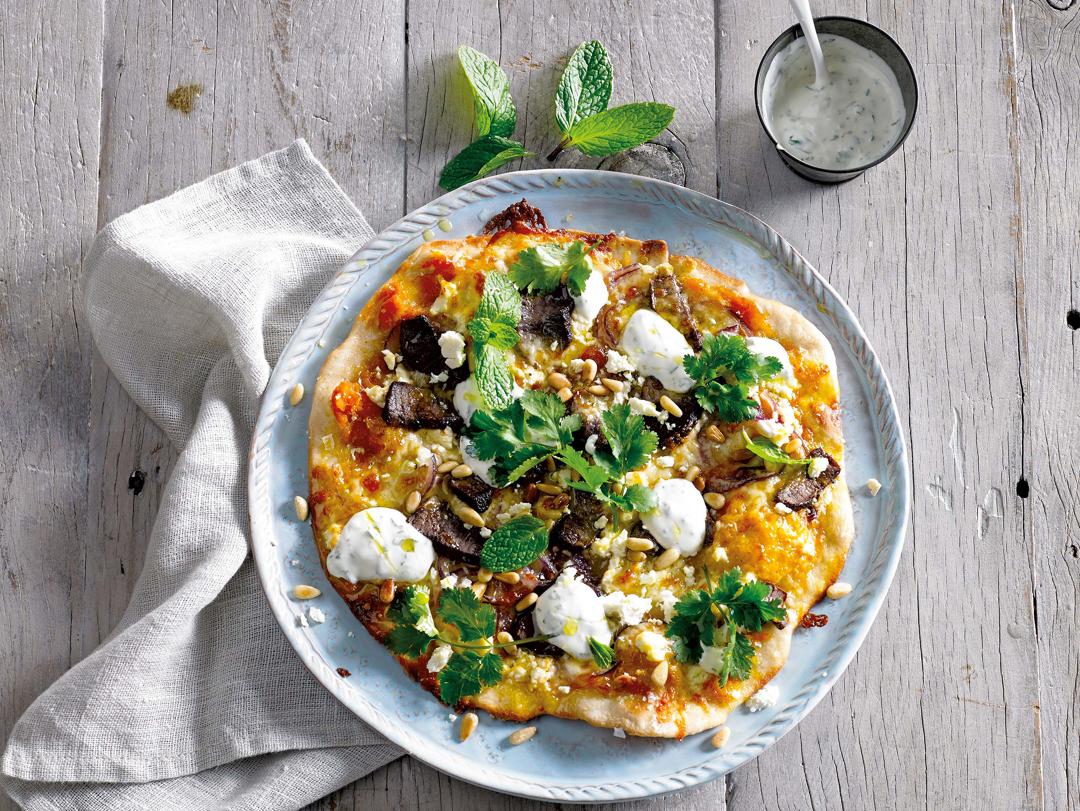 Moroccan Lamb Pizza with Yogurt Dressing
Makes 1classic crust pizza
Ingredients
---
For the dough:
1⅓ cups (7 oz) bread flour

1 tsp instant dried yeast
For the yogurt dressing:
¼ cup (2 oz) Greek-style yogurt

1 tbsp chopped fresh mint

Freshly ground black pepper

to season
For the topping:
2 tbsp olive oil

divided, plus extra to serve

1 tsp ras el hanout spice

divided

9 oz butternut squash

peeled, cut into 1¼-inch pieces

¼ small red onion

thinly sliced

⅓ cup (1 oz) shredded mozzarella cheese

1½ oz feta cheese

crumbled
Instructions
1

To make the dough, put the flour, yeast, sugar and salt in the bowl of a stand mixer with the dough hook. Mix to combine. Add the warm water and oil to the dry ingredients. Mix on medium speed for 5 minutes until the dough is smooth and elastic. (Alternatively, combine the dry ingredients in a bowl. Add the warm water and oil to the dry ingredients. Mix until the dough comes together. Turn the dough out onto a lightly floured surface and knead for 10 minutes until smooth and elastic).

2

Put the dough in a lightly oiled bowl, cover with plastic wrap and set aside in a warm place for 45 minutes or until the dough doubles in size.

3

Meanwhile, make the yogurt dressing, combine all the ingredients in a bowl. Season with salt and pepper. Cover and refrigerate until ready to serve.

4

To make the topping, Combine 1 tablespoon of the olive oil, ½ teaspoon ras el hanout and garlic on a plate. Add the lamb and turn coat. Heat a grill pan or skillet over medium-high heat. Add the lamb and cook for 1 minute each side until seared. Transfer to a plate. Set aside for 5 minutes to rest. Slice the lamb into ½-inch -thick pieces.

5

Steam or microwave the squash until tender. Drain well. Transfer to a plate. Drizzle with 1 teaspoon of the remaining oil and sprinkle with the remaining ras el hanout. Coarsely mash with a fork until well combined.

6

Sprinkle the semolina onto a clean surface. Turn the dough onto the semolina and punch down to remove the excess air. Knead until smooth. Stretch the dough out until it is large enough to cover the pizza pan.

7

Spread the remaining oil over the pizza dough. Spread the pumpkin evenly over the dough, leaving a ½-inch border. Top with the onion and mozzarella.

8

Insert the wire rack into the bottom shelf position. Preheat the oven. Select PIZZA/CONVECTION/FRESH/425°F/16 minutes and press start.

9

Once preheated, put the pizza in the oven. Cook for 13 minutes.

10

Remove the pizza from the oven, top with the lamb and feta and cook for a further 3 minutes until the topping is light golden and the dough is browned.

11

Sprinkle with pine nuts. Dollop over the yogurt dressing. Drizzle with extra olive oil, season with salt and pepper and garnish with cilantro and mint leaves. Slice and serve.